We have been the leading company carrying out junk removals in Southwark for the past several years and as such we would be more than glad to help you with whatever project you currently have at your hands.
With precision and care, complete professionalism and skills that live up to the highest quality standards of the industry, our technicians plainly know how to do rubbish removals. It does not matter if you want them to just come several times a week and collect the junk that has been accumulated on your property, or you have a one-off project of a larger scale on your mind – we are the perfect choice for you.
We welcome you to contact us as soon as you can if you are searching to hire a professional company that provides contract waste clearance services. This means that we are ready to come on a periodic basis and collect all the rubbish from your property. The most common collecting periods for which are hired are daily, bi-daily, weekly, bi-weekly and monthly. However we are a flexible company that is ready to come and collect your waste on at a periodic basis that suits you best.
No matter where in Southwark – we can carry out a junk collection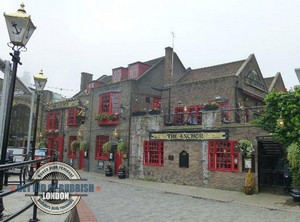 Our waste removals services that cover the whole territory of the borough of Southwark come fully insured and are carried out by licensed specialists with extensive experience in the field. You should not doubt our expertise in carrying out waste disposal duties. We have been at the service of thousands of clients over the years and every single one of them has left positive feedback about the serviced he or she had received from us. The truth is that today a large portion of our business comes from word of mouth recommendations made by past clients of ours, so if you by any chance have heard about our company by a friend, colleague or neighbor, we would not be surprised even a bit.
Our flexible schedule allows us to carry out junk collection at any time of the day and night. As we have already made explicit, what we care about is your comfort and satisfaction, and our trained and very well prepared experts will do whatever it takes to achieve them – even work in the weekends or at night. Full insurance and recycling are also included in the price you will be presented with for getting the job done us – and it will be a very competitive price too. We have tailored a custom pricing system that takes into consideration the specs of the job and your individual requirements, thus enabling us to provide you with the best deal you will possibly manage to find in the area. Do not miss your chance to get us working by your side. Call us today for booking your rubbish removal with us and receiving a free no obligation quote for your upcoming project.
Convenient and flexible junk collection services in Southwark
Rubbish and junk have no place at your home or workplace – give us a call today and we will organise the quick, safe and efficient removal and disposal of most types of nonhazardous domestic and commercial waste. We are fully licensed and qualified to offer professional waste management, there will be no margin for error or risk of substandard work. Our waste technicians are skilled and trained for the job. We have extensive technical capacity and service expertise. We provide customised pricing and specialised quotes. Fixed schedule waste removal also available. Services booked for all days.
Quick waste collection services available for Southwark residents
The Inner London Borough of Southwark lies just to the south of the River Thames, and has a very favorable location near all the major commercial and cultural centers of present day London. The borough boasts a population of over 288 000 residents, scattered on a territory of just over 11 sq. miles. It is a comfortable and quite beautiful place to live in. Combined with its excellent location near the very heart of the capital, this makes Southwark one of the best places to live in London – which explains why in the past ten years the population of Southwark has increased with nearly 30%.
The Borough of Southwark is the location of the world famous Dulwich Picture Gallery. The gallery is the oldest public art gallery in Britain and was opened in 1817. The edifice that houses the gallery was designed by prominent architect Sir John Soane. Today the Dulwich Picture Gallery is one of London's most visited museums.
Southwark is one of the Inner London boroughs. The district connects to Central London via number of bridges over the Thames. Southwark draws much local and international tourism as it is home to some of London's most iconic landmarks. Dulwich, one of the suburbs in the borough is also a must visit cultural and tourist destination. For more information on the borough visit: https://www.southwark.gov.uk/