Effective waste clearance requires specialised expertise and training as the process itself can be somewhat dangerous at times, needless to say time consuming and costly when not using the correct methods.
We provide specially formatted junk removals in Dagenham to both residential and commercial customers. In order to be as time-efficient as possible, we own and maintain a fleet of purpose-built waste removal vehicles of variable size and load capacity.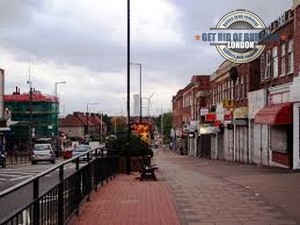 We understand that customers need waste removed off the premises as quickly as possible, this is why we maintain excellent short notice availability and same day service when circumstances allow it.
Generally, we are able to quote customers accurately over phone or email, given we are provided with sufficient amount of information on the type and volume of waste you need us to get rid of. However, in certain cases we might suggest for a preliminary premises viewing (a visit to your address by one of our people) in order to come up with a more accurate quote. This is one of the ways to keep our rubbish removals cost efficient for our customers.
If you're located in Dagenham – call and book a garbage removal
Our specially trained waste clearance teams are able to round up and collect different types of junk from anywhere on the premises, including hard to reach spots like:
·         Attics and loft spaces;
·         Basements and closets;
·         Garages and garden sheds;
By using our specialised junk removal options, customers save time, effort and money, here is why:
·         With us there is no need to obtain a permit or license– we are not a skip hire company, but a licensed and registered waste collection and disposal service provider;
·         With us there are no waiting periods for collection and disposal resources to become available – we collect all waste on the spot, no delays;
·         We charge customers fairly – only for the amount of waste actually collected;
·         We do all the collection and loading – no effort on behalf of customers, just tell us where it is and we will have it loaded and ready for removal;
We are quite serious about sustainable waste management and in order to reduce environmental toll, we recycle and reuse as much waste as possible in licensed waste management facilities. Our idea of responsible junk removals in Dagenham means diverting whatever possible from ending up in landfills.
When the London Borough of Barking and Dagenham was formed through the London Government Act in nineteen sixty three, almost all of the areas of the former Barking and the former Dagenham boroughs were incorporated into the new administrative division. At the time, the newly formed borough had a total population of one hundred and eighty thousand people. Although the borough was formed in the early sixties, it did not get its current name until twenty or so years later in nineteen eighty. Most of the housing stock in Barking and Dagenham dates back to the interwar period, when the London City Council was looking to relocate people from slummy areas of the East End. New industrial estates also settling in the borough at the time provided the much needed employment for new residents.