Our range of specialised junk removals in Newham is the quick and easy way to deal with most types of waste generated by residential and commercial properties. Don't sacrifice valuable living or business space to junk, rubbish and clutter when you can have us deal with the situation effectively and affordably.
Garbade disposal company operating in Newham
We handle most types of rubbish removals and will be able to organise for quick and inexpensive disposal and transportation of junk off your premises without making you wait around or jump through hoops of paperwork.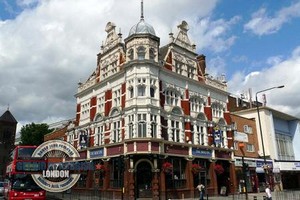 In order to make every waste collection safe, swift and efficient we employ specially qualified waste management technicians. Our personnel is organised in teams which are fully equipped for the job at hand. In terms of technical capacity, we have all angles covered – our fleet of purpose-built waste removal vehicles allows us to collect and transport away large volumes of different junk and rubbish without any costly delays or further issues.
Being a professional and experienced waste removal service provider we are capable of dealing with most types of waste like:
·         Office or commercial property waste like old files and paperwork, filing cabinets, redundant office equipment and electronics, commercial premises furniture, commercial kitchen equipment etc.
·         General household waste like old furniture and interior features, redundant house electronics and household appliances, leftover building supplies, discarded renovation materials etc.
·         Garden, green, garage, attic, basement and shed junk of all sorts and kinds;
Perhaps the only thing we don't deal with is hazardous (including biological) waste. For a full list of the items and materials which are not subject to collection, please consult with us over phone or email.
In terms of efficiency and affordability, our junk removals in Newham are the much better alternative to any other options available right now, including private or council skip hire. To elaborate:
·         Our quotes are fair and individually prepared as per the type and volume of waste we need to collect and dispose of;
·         Customers only pay for what we actually collect and transport away;
·         There is no need to apply for and obtain a license or permit for rubbish removal as we are a fully licensed and registered waste removal service provider;
·         Customers will be provided with a valid waste transfer note issued by the treatment facility responsible for recycling or processing that particular type of waste;
·         We do all the collecting, heavy lifting and loading of junk anywhere on the premises – no spot too hard to reach;
·         Responsible waste disposal practices – diverting as much waste as possible from landfills through recycling and reuse.
Our junk removals in Newham are available seven days a week, under flexible hours and with good short notice availability.
Affordable garbage collection anywhere in Newham
Garage clearance in Newham
The garage is one of the places in most homes where large quantities of junk and unnecessary items tend to accumulate. That is why we have tailored a special garage clearance service which aims at helping you when you decide to get the rubbish out of your home's garage. We will come fully equipped and prepared, load the junk on one of our Lutons and drive it to the depot for recycling and disposal. The benefits of getting us to clear off your garage are many, but the most important thing is we guarantee you will be subject to no hassle or stress.
Newham is London's Olympic Borough – the district was one of the six hosts of the twenty twelve summer Olympics and contains most of London's Olympic Park, as well as the official Olympics Stadium. Currently Newham is one of the most ethnically diverse residential localities of the capital.  There is no particular social or ethnic group dominating, making Newham a melting pot of multiculturalism.
The Queen's Market is arguably the best known open street market here. It is also a reason for a lot of controversy, because members of the local community oppose council plans for future redevelopment – those locals are gathered under the name Friends of Queen's Market.