When junk and rubbish are getting in the way of everyday living or running your business effectively, then perhaps it's time to consider specialised waste removal services. Our range of general and special purpose junk removals in Waltham Forest will prove to be the sensible, efficient and inexpensive way to get rid of waste generated by your residential or commercial property.
Book a Fast rubbish clearance at affordable prices in Waltham Forest
We understand that specialised rubbish removals are all about efficiency and affordability as well as timely and safe completion. In light of this, we would like to point out the following:
Since we operate a fleet of specially equipped waste removal vehicles of variable size and load capacity we can organise for highly efficient and quick collection and disposal of waste off the premises;
We employ specially trained waste management technicians who have the

necessary skills and expertise

to handle their work safely, efficiently and with the necessary pace and precision;
Our waste removal solutions are cost effective and will not be a burden for your household or office budget – our quotes are individually prepared at per job basis in order to keep things fair and square;
Wondering whether or not we deal with the type of waste littering your home, office or establishment? Here is a short list of some of the items and materials we collect and dispose of:
All types of household waste, ranging from leftover building materials to old furniture and redundant kitchen appliances (including gas operated ones);
All types of general office waste including files and paperwork, filing cabinets, workstations, desks, other office equipment etc.
Specialised IT & electronics removal and disposal under regulations of the WEEE act;
All types of garden, green, garage, attic, basement and shed junk including gardening equipment, power tools etc.
Please be advised that hazardous waste will not be subject to collection. However, we can advise you on how to go about organising the collection and disposal of such items and materials.
Speedy and green waste removal for business and private customers in Waltham Forest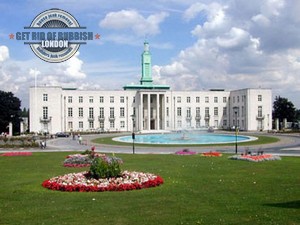 If you are also looking for an environmentally friendly way to deal with waste generated by your property, our specialised junk removals in Newham are once again the solution you need. Responsible waste management is one of our key policies. We recycle and reuse as much waste as possible as need to minimise the amount of stuff ending up in landfills. Salvageable items are handed over to charities.
Waltham Forest is a borough in the northeast of London. The borough is made up of built-up, heavily urbanised areas displaying inner city characteristics to the south, and more affluent (mainly residential) developments in the north, which also include parks, reservoirs, green open spaces, wooded areas, sports and recreation facilities etc. It is worth noting that overall, one fifth of the total surface area of Waltham Forest is taken by parks, woodlands and green open spaces. The area occupied by modern day Waltham Forest has been inhabited since the Stone Age – confirmed by the many artefacts and remains unearthed in the area. The district was also largely populated during the Roman period – again evident by the many remains including building foundations etc.