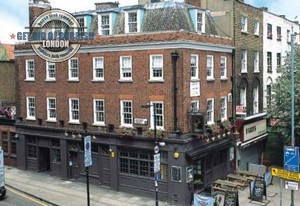 Junk removals in Islington are easy to manage – that is, when you have us by your side as the leading professional contractor operating in the industry on the territory of the borough today. We would be more than happy to provide you with a service that will cover all your needs, remove not only the junk from your property, but also the hassle and stress from the process, reach your highest levels of customer satisfaction and, at the end of the day, come at a very competitive and affordable price, so that your budget does not suffer even one bit.
Give us a call today on the phone numbers provided here, and our very knowledgeable and friendly customer support experts are going to provide you with all the information you need concerning our services and methods of work. We would be more than happy to discuss your needs at length and come up with a very satisfactory solution to all of them. Our experts are all well trained, fully licensed and extensively experiences, so you can count on them to know how to approach any job that you can possibly have for them in an efficient and hassle-free manner.
Easy junk disposal at affordable rates in Islington
Our rubbish removal services that cover the territory of whole of Islington are one hundred percent environmentally responsible. We always recycle any items that we collect that allow recycling and properly dispose of the rest in accordance to the policies of the local council.
No matter where in Islington you live
What is more, we tailor our services in such a way that ensures your complete comfort and peace of mind. By hiring us to work for you on your junk removal needs, you can count on us to save you time, energy and even money, because the costs of our services are individually estimated in accordance to the specs of every individual job. If you want to know how much you are going to be charged when you get your rubbish disposal carried out by us, just give us a call on the phone numbers provided here or request a free no obligation quote from our customer support by filling out our easy to use online contact form. In both cases you can count on an immediate answer and a solution to every single one of your problems. Just get in touch today.
Get exclusive deals and offers
If you happen to be in need of expert waste collection assistance in Islington don't hesitate and reach out to us. We will not let you down as we are always on time and our workers are quick on their feet. Don't expect us to make a lot of noise or to leave a bad smell behind during a junk removal in the area. We are also fully licensed and can be approached for a commercial garbage disposal in N1.
Islington is a small residential borough, that administratively forms part of Inner London. Even though the territory that Islington is not that great, especially when compared to other London boroughs, it has a population exceeding 215 000 residents as of 2011. Islington is used for home of many people commuting on a daily basis to the City of London and the other big commercial centers nearby, mainly due to its favorable location. Some of the biggest local amenities include the Emirates Stadium, the Almeida Theatre, the London Canal Museum, the St. John's Gate and many other museums and theatres that enrich the cultural life of the borough.
Islington is a district located in the London Borough of Islington, Greater London. Some of the main and busy roads here are Essex Road, Southgate Road and Upper Street. This district is bounded by Liverpool Road, City Road and Southgate Road. The major commercial centre is Islington High Street which branches into Upper Street and Essex Road. Islington is home to some Grade II listed buildings such as St Paul's Church, the Union Chapel and the Almeida Theatre.