You can scout the area of Kingston upon Thames for days, weeks and months but you won't find a better tailored rubbish removal services than ours! We realize that we sound overconfident and arrogant but it is the truth and we won't deny it only to appear modest and down to earth. In fact we have no interest into being modest because we have worked hard to become the company that we are today and more importantly we have worked even harder to become the waste collection company with the finest garbage disposal services.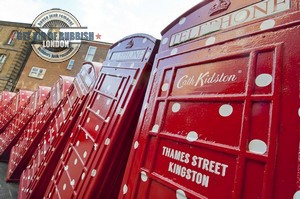 However the best aspect of our junk removal services isn't their quality but the fact that we provide them at highly affordable prices. Our prices are so reasonable that we are known throughout the area as the company that provides the most cost effective junk removals in Kingston upon Thames. We work with accessible service fees because we understand in full the financially challenging times in which we are all living and more importantly because we want everybody to know that they can turn to us when they are facing a waste disposal project.
If you are looking for a garden clearance service in Kingston upon Thames, we are definitely the right people to turn to. Our trained gardeners and rubbish removal experts know what is best for your outdoor space and how to deliver it to you. They work quickly and without hassle, providing optimal results with no waste of resources. Get in touch today and book your garden clearance in Kinston with us.
Full Kingston coverage
Know that our services can be used for both domestic and commercial projects. So whether you are a homeowner, business owners or tenant don't be hesitant to call us because we will not only provide you amazing rubbish removal services but services that will go way above your greatest expectations.
Please note that we provide and maintain a 24/7 customer support services. We provide this particular service because for one it is good for business and two because it shows to our clients that they can rely on us at anytime of the day. So if you have just learned that you are facing a time sensitive junk removal in Kingston upon Thames, don't wait a minute longer to give us a call.
Kingston based, efficient rubbish collection company
Now that you are certain that we are indeed the waste removal company that provides the best junk collection services, don't make us wait any longer and give us a call today so that we can meet and discuss the details of your rubbish removal project.
Our company is based in the Royal Borough of Kingston upon Thames. The borough is situated in the southwestern parts of London and just like most London boroughs was formed in 1965. The borough is comprised of a total of 16 districts including the district of Kingston upon Thames which is undoubtedly the most noted district within the borough. At the moment the borough has a population of approximately 160,000 people. The Rose Theater is one of the area most renowned landmarks. The theater was opened in 2008 and currently has a capacity of 899 seats. Richmond Park is another well-known landmark within the borough. The park was created during the first half of the 17th century and currently spreads over an area of 2.360 acres. Richmond Park is the largest of the London Royal Parks and is perhaps the most famous urban park in Europe.
Kingston upon Thames originated as a market town, and consequently grew out to be one of the finest South London boroughs. Actually, it has a royal status because of its close historical connections to the crown. It was the place where the Anglo-Saxon kings of the 10th century were crowned. Today Kingston upon Thames is a major residential area and contains several pretty notable tourist attractions.