If you have domestic rubbish removal requirements which cannot be ignored or postponed, then by all means have those taken care of by the most professional and reliable junk removal company in Dulwich – us. We are qualified, licensed and insured to handle the removal and disposal of all types of nonhazardous domestic waste. This includes after builders and post renovation rubbish, garage and basement junk and clutter, garden debris and green refuse, WEEE waste, single odd items like old furniture pieces and redundant appliances, as well as many more.
Safest junk removal services available in Dulwich
In order to cancel out the margin for error, and ensure quick loading times and no risk of damage, all work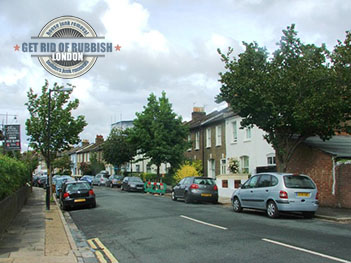 concerning our junk removals in Dulwich, is carried out by teams of qualified and experienced waste management technicians who know their work inside out. Our guys will have everything removed and loaded on board our specialised junk removal vehicles within the shortest time possible, without any fussing about.
Our versatile and inexpensive rubbish removals in Dulwich will not cost customers a small fortune as we only charge for rubbish we actually remove. Furthermore, we quote each customer individually and onsite if necessary. All services come with flexible pricing able to meet specific budget requirements of our customers.
Since we aim to encompass more customer needs in an efficient and affordable manner, we also offer specialised skip hire and cost effective house clearances to all residential customers in the SE21 area. Neither service requires any permits or waiting periods on behalf of customers. We operate skips of various sizes and load capacity.
Recycle, not dispose
In our day to day work we come across lots of recyclables which have no place in landfills. In light of this, we deposit all salvageable waste matter to recycling and processing depots. We hold permit for using all such facilities around the city.
Our junk removal services in Dulwich deliver loads of convenience and flexibility:
Customers receive attentive, round the clock assistance via phone and email, seven days a week;
We offer convenient booking hours during all days, and will be able to accommodate for last minute bookings and late night operations;
We ensure quick loading times and are able to remove waste from anywhere on the property, including hard to reach spots;
The Dulwich area is made up of three zones – East Dulwich, West Dulwich and Dulwich Village. One of the key local places of interest in the area is the famous Dulwich Picture Gallery. Dulwich is one of the older districts to form outside the walls of City of London. Founding of the settlement happened in the year nine hundred sixty seven by grant of King Edgar. The settlement's name has been spelled in many different ways over the centuries. It is believed it comes from Old English, and means 'a meadow where dill grows'. In the twelfth century, when the settlement changed ownership from Harold Godwinson to King William I of England, the village had one hundred registered residents. From the thirteen hundreds onwards, Dulwich accumulated rich history of events, ownership and local events. During WWII the district suffered greatly from German bombing as London authorities were trying to divert bombing raids from densely populated areas through false coordinates, unfortunately many of the bombs fell in Dulwich.