If you are looking for an affordable and environmentally friendly way to dispose of all the junk and rubbish littering your home, office or commercial establishment then we have exactly what you need!
The preferred choice for waste collection by all Enfield residents
We offer private and business customers access to the most efficient and affordable junk removals in Enfield. We have devised our waste clearance services in such way as to reduce environmental toll and be the most efficient alternative to any other waste removal options available right now.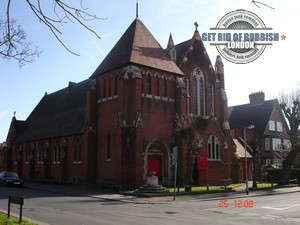 So, how does the service work?
·         We quote customers fairly and correctly, our figures are based on the amount and type of waste that's due for removal and disposal;
·         Actual clearance and removal is done by teams of specially qualified waste management personnel, fully equipped with the necessary tools and safety gear;
·         Waste is transported in specialised removal vehicles of the appropriate size and load capacity as to avoid any spills, delays or other issues.
·         Salvageable items and materials will be given another go at life through recycling and reuse by the appropriate waste management and processing facilities;
·         Customers will be provided with a valid waste transfer notice indicating type and amount of waste handed over for processing;
·         Items in good working order will be given to charities and community support organisations;
Our range of junk removals in Enfield provides customers with a number of important advantages which shouldn't be overlooked:
·         High efficiency – all work carried out by qualified technicians, no need for any labour or effort on behalf of customers;
·         Waste cleared from anywhere on the premises – including attics, basements, sheds, garages, closets, storage rooms etc.
·         No need to obtain licensing or permit – we are not skip hire company, but a fully licensed and registered waste removal service provider;
·         Collection and disposal of home and office electronics and electrics in accordance to the WEEE program;
Enfield's leading garbage collection provider
Generally, we are able to collect and dispose of most types of household, office and commercial waste, though we don't do any hazardous waste clearances. We have good short notice availability and arrange for same day service whenever circumstances allow it.
Our junk removals in Enfield are available to commercial and domestic customers seven days a week, including public holidays, under flexible hours.
Garden waste clearance in Enfield EN1, EN2
We are the people to turn to for comprehensive garden clearance in Enfield solutions. No matter how good a work you do on maintaining your outdoor space, if it is cluttered by garbage, it would be in vain. That is why we are going to come and collect all sorts of trash – from old tyres to dead plants etc. from the place, properly dispose of everything in a green eco-friendly rubbish clearance manner and be on our way, so that you can enjoy your garden the way you are supposed to. Don't hesitate to ask our experts for useful gardening tips too.
Enfield is a predominantly residential borough in the north of London. First written accounts of the district (although under a slightly different name) appear in the Doomsday Book of ten eighty six. Originally, Enfield was a small market town in Middlesex, about a day's travel from London. As the city expanded through the centuries, Enfield was eventually engulfed and became a residential suburb with good transport links to central parts of the capital. In terms of industry and economy, Enfield has long been one of the key locations for the British armament industry – particularly manufacturing of light arms. While still in full operation, The Royal Small Arms Factory in Enfield was responsible for engineering and manufacturing of some of the most iconic light weapons of the British Army (namely the Lee-Enfield rifle as well as the Bren and Sten machine guns).
Enfield is well known for its several youth organizations. Both the Scouting and the Guiding have groups based here. There is also the Boys' and the Girls' brigade, as well as the Air training Corp that have representation in the borough.