Looking for a company specializing in junk removals in Lambeth? You have just found the best among them all.
We have established our company several years ago and since then we have been providing local residents in Lambeth with world class quality rubbish removal services that are considered in accordance to both the high standards of the industry, and to our customers' individual needs and requirements. What does this mean?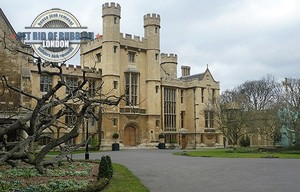 When you approach us for help with a garbage removal you have at your hands, you will have the chance to discuss the specifics of your project a length with a polite, knowledgeable and experienced member of our 24/7 customer support team. Just give us all the information relevant to the job and we will make sure to tailor an individual plan for your junk removal in Lambeth that is going to provide you with the optimal solution to every single one of your problems.
Available anywhere in Lambeth
Our experts carry out house clearance services with the help of state of the art equipment and vehicles that are well maintained and prepared to meet the needs of every project our help is needed with. What is more, we try to make our services as environment friendly as possible. That means that we are not only going to come and collect the garbage accumulated on your property, but we are also going to dispose of it properly. We are going to recycle everything that allows it, and throw everything else in the specially designated places. If you need a consultation on your house clearance needs, do not hesitate to get in touch with us on the phone numbers provided here, or online via our easy to use online contact form you are going to find on this website.
Call our Lambeth based rubbish collection company
Free no obligation quotes are given upon contact to anyone interested. The quote will show the full price for your junk removal project, as it is going to be if you decide to hire us. We do that in order to provide you with all the information you need in advance, so that you are able to consider your budget properly and decide whether or not we are the right contractor for you. Chances are that the decision you make will be favorable to both you and us, so why don't you just call us now?
Complete garden rubbish removal
Why clear your garden rubbish on your own when you can have us and all our resources by your side. We have the necessary tools to easily collect broken branches, large amounts of foliage and hard landscaping materials. The scale of your junk removal in Lambeth, SW16, won't be an issue as we are fully prepared to organise and carry out demanding and labour intensive jobs. Bear in mind that we also provide contract garden rubbish clearances, which means that we can come periodically and collect all the garbage from your front lawn and backyard.
Construction debris clearance made easy
Our services are perfect for handling after builders rubbish removals in Lambeth. A building or repair projects at home tend to produce much waste that you are left to wonder how to get rid of. Have no fear, we will send a team of certified experts and a skip. Every bit of rubbish will be collected and driven to the landfill/depot where it is going to be properly disposed of, and you will not have to break a single sweat in order to make that happen, and on a good price too. Sounds tempting, doesn't it?
Our services cover, as we have already have had the chance to mention, the whole territory of the London Borough of Lambeth. Lambeth is located just to the south of the City of London, on the other side of the Thames. It is considered to be part of Inner London. In terms of architectural landmarks Lambeth is probably best known for the four Waterloo Churches that are in the parish. The British Film Institute as well as the National Theatre are both located in Lambeth. The area is a preferred place of residence for people working in the City, most of whom commute on a daily basis to there.
Best prices in SW16 and SE11
We are known to work with the most reasonable prices in Lambeth. It is like this because we calculate our service fees by taking into account the exclusive details of each waste disposal project for which we are hired. It is because of our fair rates that we are able to maintain an excellent balance between the quality of our garbage collection options and our prices. Furthermore, we do offer special and lucrative discounts to loyal clients and you can learn more about them by contacting our consultants.
Your rubbish clearance will be handled at a time that suits you best
We work with a well-tailored agenda which has always has free slots for new Lambeth, SE11, junk removal projects. Our flexible schedule permits us to accept last minute bookings and carry out late night operations which is highly appreciated by our business clients as it means that we can clear their rubbish without interrupting their daily affairs.
Lambeth Palace is another major landmarks in the area. The borough is among the most desirable residential area in London today, mainly because of its quite favorable location. It is connected to both the City and Westminster, e.g. all key points in Central London, via several bridges carrying road and foot traffic, as well as rail.
The Borough of Lambeth covers an area of 10.36 square miles and has a population of about 325.000 people. The National Theatre which is also known as the Royal National Theatre is arguably the most notable landmark in the borough. It was established during the mid-1970s and was designed by well-known British architect, Denys Lasdun. It comprises of three halls with a total capacity of 2.450 seats.