There are many things to look after for if you want the area that you live in to be as comfortable as possible, and rubbish removals are definitely on the top of the list with priorities every local council, as well as individual household, has. That is why we understand the great responsibility that we take by establishing a company that carries out junk removals in Brent – our job directly reflects the well-being of the area. Combined with our willingness to stay always ahead of the competition, by achieving the highest levels of customer satisfaction, this is the main reason we always try to keep up with the current trends in the waste disposal business. In short – if you are looking for the best junk removal company on the territory of the borough of Brent, you have just found it.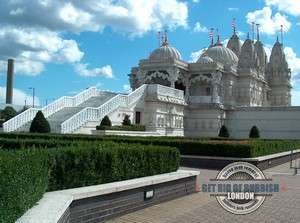 We have been the leading contractor in the field for years now. We have started off as a small locally owned contractor, but with time and projects successfully completed, we have managed to expand our services, and today we are carrying out junk removals in Brent, which includes all districts of the borough.
Call us today if you want your one off rubbish removal, or regular waste disposal needs to be taken care of in the best possible way. We are going to come to your place at the time that would be most comfortable for you and carry out the job with precision and care that are unmatched by any other contractor in the field. It does not matter whether the project that you have for us is big or small, simple or complex – our goal is to reach your highest levels of satisfaction as a customer of our service, and we are not going to take short cuts to achieving that goal.
Book a waste removal team in Brent
You can get in touch with us for more information on the services we can help you with either via phone or e-mail. Our customer support team operates around the clock for your comfort, and the experts working in the team are always ready to answer your questions, provide you with a free no obligation quote and help you throughout the process of booking and planning of your waste removal. Just call us today and we are going to make your life easier – and free of junk.
Don't hesitate to contact us at one of our telephone numbers if you are looking to hire a professional waste removal company that provides landscape rubbish removals. Note that we have the necessary manpower to easily collect and clean any quantity of garden junk from any type of open space. To us it doesn't matter whether you have a small backyard, mid-sized garden or your own park around your property because we also have the necessary equipment to handle any type of garden waste clearance meticulously and swiftly.
Organise a rubbish removal anywhere in Brent
Brent is a borough in north west London. It lies on a major transport route leading from the City to the western parts of the country – the modern A5 road. This explains why the area is usually pretty busy. The Borough of Brent has a population 312 200 residents according to the most recent census, and a territory covering 16.70 sq. miles. In many ways it is a typical suburban area, but in many other aspects Brent represents what all parts of London should strive to look like. Brent is a multi-cultural and very diverse place, with representatives of nearly all nations, cultural backgrounds and religions to be found in London living in it.
The London Borough of Brent is home to numerous prominent landmarks, including Wembley Stadium which is arguably the most famous sporting and entertainment venue in the United Kingdom. The stadium was officially opened in 2007 and has a maximum capacity of approximately 90.000 spectators.