You won't find better rubbish clearance services than ours in the area of Croydon. We have the courage to make this bold statement because we are well aware of the fact that we are currently the most sought and praised garbage removal company in the area.
We have been in the waste disposal business for numerous years and trust us when we say that we have seen it all, done it all. Also note that the size, timeframe and complexity of your waste clearance project are of no concern to us because we have the necessary manpower, equipment and knowledge to handle even the grandest and most complex projects.
Rubbish disposal – clean and efficient, available in Croydon.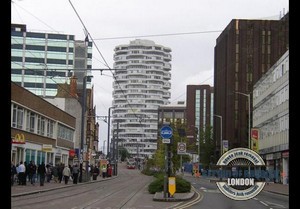 A testament that we provide the best junk removals in Croydon is the fact that we are the favorite company of the local business owners. We have become a benchmark for quality when it comes to commercial rubbish removal projects because we always manage to complete these types of projects with flying colors. Know that to us it doesn't matter whether we have to clear office or industrial waste. In fact the only thing that you have to do to take advantage from our amazing commercial junk disposal services is to call us and book us.
Please don't assume wrongly that our domestic junk removal services are of a lower quality just because we are highlighting our commercial services. In all honesty our domestic garbage clearance services are as good as our commercial waste removal services.
You can scout the Borough of Croydon for days and weeks but you won't find better builders waste clearances than ours. It is like this because of the fact that we have a large team of professional waste removers that can quickly and easily remove any type of construction waste such as timber, concrete, tiles, metal, steel, bricks, marble and so on. If you need further convincing that we provide the best builders waste removals, call us today and we will provide you your personalized quote. Note that our quotes are free of obligation and free of charge.
Book a clearance team at your Croydon address
Also take into account that we are perhaps the only rubbish removal company in Croydon that doesn't work with a fixed pricelist. Instead we base our services fees on the individual parameters of each waste clearance projects for which we are hired. We use this pricing method because:
1.     It protects us from under-pricing our services and our clients from us over-pricing our services.
2.     It is a pricing method that allows us to maintain an excellent quality/price ratio.
3.     It is a pricing method that suits best the currently financial situation in which we are all living.
If we have convinced you that we are the company that provides the finest junk removals in Croydon, go to the contacts sub-page of our company website in order to obtain our contact details and call us to book us.
Disposal of old tyres in Croydon CR0 and CR9
We will gladly get you rid of a variety of unnecessary items that require special treatment in terms of disposal, including old tyres. Most councils have special regulation when it comes to disposal of tyres, and since our skillful specialists know all about those in Croydon, just leave it to them to come and collect yours, and then bring them to the place where they are supposed to be disposed. It would naturally be done at a time that is most suitable for you and in accordance to our policy about affordable prices.
Our rubbish clearance company is situated in the London Borough of Croydon. The Borough of Croydon is located in the southernmost parts of London and covers an area of 33.6 square miles. With a population of approximately 365.000 people, Croydon is the most populous borough in London. The borough is named after the historic town of Croydon which is also the principle settlement within the borough. The most famed landmarks of the borough are the Croydon Clocktower Arts Center, the Spreadeagle and Fairfield Halls. The borough is also home to Queens Gardens which is one of London's most notorious and beautiful parks. Croydon is also the location of the Croydon Airport which was once London's main airport. Today the airport serves the purpose of a tourist attraction.
Croydon Palace is one of the borough's most noted landmarks. The palace dates back to the 10th century and for over five centuries was the official summer residence of the Archbishop of Canterbury. The palace was also frequently visited by King Henry III and Queen Elizabeth I.
Some famous people who are associated with the area of Croydon include world famous singer Adele, screen writer and author Raymond Chandler, model Kate Moss, writer D. H. Lawrence and of course Amy Winehouse, who attended the world famous BRIT School for Performing Arts and Technology in Croydon.