If junk and rubbish are mounting up at your place, pull the handbrake and call us in. We have a zero tolerance policy toward commercial and residential property waste and will get rid of all the rubbish quickly, affordably and efficiently.
Our specialised junk removals in Harrow are available to both private and business customers throughout the borough. We can perform clearances for homes, offices, retailers, eateries and manufacturing facilities.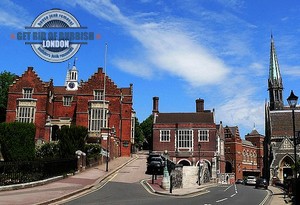 We are the more efficient alternative to expensive and slow skip hire – we maintain good short notice availability and perform same day clearances wherever possible. Some of the benefits of using our junk removals in Harrow over other clearance options are:
We can collect and dispose of an unlimited amount of waste whereas skips can only be filled with a set amount of waste thus limiting your removal and disposal capacity;
We do not require any licensing or permits to use our services (unlike skip hire) – we are a

licensed and registered waste removal

service provider;
We do not require any labour on behalf of customers, if using a skip loading and compacting of waste is done by customers, in this case our clearance teams do all the work;
We also offer a sustainable, ecofriendly alternativeto other junk removal and disposal methods as we reuse and recycle as much waste as possible. Diverting some waste from ending up in landfills is a good start in sustainable living.
Book a junk clearance for your home in Harrow
We come across all sorts of waste, some of which is still usable and in good working order, such items are given to charities so they can be of assistance to someone else who is in need. Items and materials which can be recycled and reused are transported to the respective waste processing facilities where they are given another go at life as bottle caps or tin cans. Customers can request a valid waste transfer notice issued by the waste processing plant.
Our junk removals in Harrow cover the collection and disposal of most types of waste generated by homes, offices and businesses, basically we deal with:
All types of household (and garden) rubbish and waste except hazardous material waste;
All types of office junk and waste apart from hazardous material waste;
Most types of

commercial property rubbish

, again without hazardous material waste;
Affordable garbage clearance. Get the best prices in Harrow
Hazardous waste is all volatiles, corrosives, explosives, toxic and radioactive materials, bio waste etc.
Our junk removals n Harrow are the sensible way to dispose of waste without paying steep prices or having to wait around to be serviced.
The London Borough of Harrow is situated in the northwest of the city. Formed a little earlier than some of the other constituencies, Harrow has preserved the image of an affluent, leafy residential district, featuring some seriously high house prices. The place to be in Harrow is the so called main hill – an area where house prices can gravitate around million and half pounds. Perhaps the reason why Harrow has retained its affluent image is the presence of Harrow School on the main hill. Generally though, Harrow's hilly zones are now surrounded by typical northwest London suburbia.