Welcome to our company's official webpage!
If you have been looking for services that cover your needs of a junk removal in Hounslow, you have definitely reached the right place. We are the leading contractor in this business in the borough, and we would be more than happy to provide you with adequate assistance on competitive prices that would definitely fit your budget perfectly.
We have been operating in the area of garbage removal for several years now. We have been at the service of many local residents, as well as businesses. We are very proud of the fact that all our clients have been highly satisfied by the quality of the job we have done.
Commercial garbage disposal for businesses in Hounslow
Our waste collection specialists are trained and fully licensed for the job. No matter whether you need someone for regular junk removals in Hounslow or you have been looking for a contractor to take up a one-off project of a larger scale – like related to a Spring or end of tenancy cleaning, or to collect construction debris after a repair of your property, we are definitely the right people for you.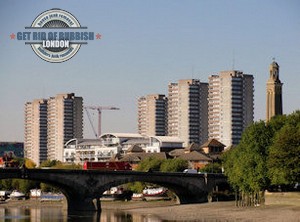 Give us a call and our polite and very well informed customer support team will give you all the information you need concerning our services and methods, as well as the full price for completing the job. The free quote you are going to receive will show precisely how much you will be required to pay at the end of your rubbish removal – there would be no hidden taxes or additional charges at the end – the price you are told will be the price you are going to pay, and we guarantee that you will not be able to find a better deal anywhere in Hounslow. Do not hesitate to get in touch with us and book your waste collection or house clearance with us. We are available at any time of the day and night and operate on a flexible schedule fully considered with your preferences.
After builders rubbish, post renovation leftovers, discarded construction supplies etc. are all common issues after every home remodelling project. Getting rid of after builders waste is specific and laborious process which we can handle for you with professional pace, precision and efficiency. Our specialised after builders junk removals are affordable and cover the removal and disposal of basically everything apart from asbestos/asbestos containing materials. We will have your property cleared of all post renovation junk and construction leftovers without risk of damage or any delays. The service is moderately priced and won't be a strain on your household budget. Bookings are made for all days of the week.
Find your area in Hounslow
When we say that we are the best company in the field covering the area, we truly mean it. Your comfort and satisfaction are the most important things for us, so do not hesitate to get in touch either via phone or e-mail for booking and a free no obligation quote.
We operate in the borough of Hounslow, which occupies some of the westernmost territories of the London metropolitan area. The London Heathrow is located on the territory of Hounslow, as well as many bus and railway stations that make commuting to the center of the city a far easier task than it might look like. Hounslow also has a very well developed local economy, with the headquarters of many large companies and corporations based here. The Air-France KLM has offices here, and so do The GlaxoSmithKline, the British Sky Broadcasting corporation and DHL Air UK. As it is easily deduced, the Heathrow plays an important role in the economic life in the borough.
The London Borough of Hounslow originates from a thirteenth century town of the same name. The borough's name comes from Old English. Hounslow has a detailed record in the Doomsday Book of ten eighty six. The borough was formed and added to Greater London in nineteen sixty five. Hounslow grew and expanded rapidly during the second half of the twentieth century.