Builders Waste Clearance – London
Our team takes much pride in the variety of services offered by the company. But our list of services would not have been complete if we have missed one of the most important – the builders waste clearance.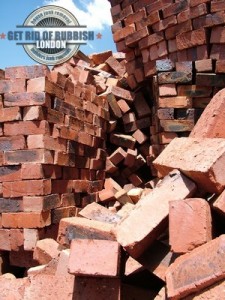 In that direction, we service both commercial and individual clients. This means that no matter whether you are a big construction company willing to get help with the builders junk removal after finishing their work on a construction site, or you are just a residents of London finishing some small scale home repairs, you can make use of our comprehensive after-builders junk removal service in London.
Why it takes a pro to do builders waste clearance?
Builders waste clearance might not sound like a very strenuous job – after all, the hard work of the actual building is already finished. Unfortunately, this is the main reason why the task is so tricky. After so much time and energy spent, you will most likely want to finish the job as quickly and as hassle-free as possible. This becomes easy with Junk Removals London.
Our services are designed to provide the best quality for price ratio available on the market today. All our technicians are well trained individuals with years of experience in the field. They know every little trick of the trade.
You can count on them completely to finish the job on time and up to the most satisfactory results. They operate with state of the art tools and equipment, which make their task a lot easier. What is more our after-builders waste disposal vehicles are modern and very well maintained, suitable for tackling projects of various scale – from very small to very big. All waste that is going to be collected from your construction site is going to be disposed of in an environment friendly manner, and all recyclable items are going to be recycled.
Your company is going to benefit greatly if you choose Junk Removals London Ltd. to be your builders waste clearance contractor. On the other hand, if you are a home owner in need of the same service, you will see for yourself that we will make the results of your repairs and construction project visible and much more efficient once we do what we do best – cleaning the builders waste.
Our portfolio includes projects for some of the largest construction companies in London. We operate in every part of the capital. We have separate teams concentrating in East, West, South, North and Central London, each specializing in the types of builders waste clearance which are most characteristic for these parts of London. This comes to ensure that the service you are going to get would be the best possible.
You can get in touch with our polite, knowledgeable and very energetic customer support team at any time of the day and night and make booking and a request for a free no obligation quote for your upcoming project. Do that by either dialing our customer support numbers (listed on this page), or by writing us a message in our easy to use online contact form. Of course, you can also come at any time in our company's office, so that you can discuss your project, needs and preferences with a member of our team face to face. It does not matter what means of communication you are going to choose in the end. What is important that you will be satisfied by the results.
By choosing us for your builders waste clearance project you choose:
Efficiency and responsibility
Professionalism and care
Around the clock customer support
Fair and affordable prices
An easy and hassle-free way to add the finishing touch to your construction project.