Rubbish removal is something people tend to put off until it is too late. By the time most people get around to actually doing something about the heap of old junk in their attic or basement, there is a big chance they need professional help. The problem stem from the fact most people are unintentional hoarders in a way. Many people think that an object must be physically broken and unusable to be sent off to the waste depot. The truth is that "garbage" is anything in your possession you have no practical use for. If it sits in your garage collecting dust and you haven't used it in the last 12 months – its rubbish. The several years we've carried out junk removals in Fulham have shown that this a problem most common with electrical devices – from kitchen appliances to old TV sets and game consoles. Things that kept on the off chance that someday they might be actually used (they never are).
Garbage disposal at low prices in Fulham
With such mentality common place it is not wonder that usually when people call us they have a giant pile of rubbish to get rid of. Fortunately our company has carried out numerous clearance jobs and we're ready to handle metal, plastic, wood and pretty much any other common household material. We've taken care of anything from old couched to bags of children's toys. With the exception of hazardous and toxic materials we are the go to company for junk removals in Fulham.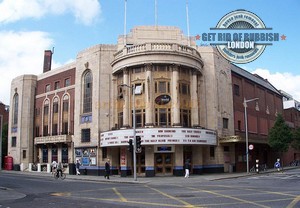 Not are prepared to handle any type of rubbish be we'll also dispose of any piece of waste the proper way. All garbage collected during a clearance is immediately taken and submitted at the nearest waste disposal facility. Further, we usually give up to a fifth of all collected junk for recycling. Also if you think that some part of certain objects are actually in a good condition we can have them delivered to a local charity instead of the junkyard.
Eco friendly rubbish removal at low rates in Fulham
To find out more about our services you can call our number and request additional information from our of our phone operators. Also you can request for a personalized quote which will include a price estimate based on the details about the job you provide. To get a quote you can also use the booking for on our website and arrange for a junk removal in Fulham directly. We'll send you the quote via email in 24 to 48 hours after you've provided the required information.
If you are after cost efficiency then give us a buzz
We are the leading name in Fulham when it comes to junk removal. Our prices are not high and we tend to deliver top notch services. Our well prepared professionals will always answer your call and can be summoned even on a short notice. Despite the fact that we can do emergency garbage disposal in SW6, you are better off calling in advance so that we can customise the service depending on your needs. Seek a free consult by us today.
Fulham is universally considered to be one of the best areas to live in London. It is an affluent district with above average levels of income and living standard. This is in part due to the proximity and thus strong influence by places like Chelsea and Kensington. Another characteristic trait is the fact it is one of the greenest parts of Greater London. Another things Fulham is quite famous is football. This is the home of two of Premier Leagues most beloved football teams – Chelsea F.C and Fulham F. C.
Fulham is a district in the London Borough of Hammersmith and Fulham. The district is situated just 3.7 miles of Charing Cross and it is also on the north bank of the River Thames. Today Fulham is mostly notable for being home to the Fulham F.C. stadium Craven Cottage and the Chelsea F.C. stadium Stamfod Bridge. However not only football clubs are developed here but also the Queen's Club for tennis and the Hurlingham Club.