Old furniture, redundant appliances, leftover construction supplies and after builders junk – these are just some of the many examples of domestic rubbish which has no place in your home. If you are finding it more difficult by the day to put up with all that junk that's in your way, then by all means engage our services and we will provide you with the most versatile and inexpensive domestic junk removals in Denmark Hill, and the rest of the SE5 area.
Apart from after builders' junk and single odd items like the ones listed above, our skilled and qualified waste management teams will also deal effectively with garden debris and green refuse, backyard junk of all shapes and sizes, garage junk and basement rubbish, household WEEE waste, old tools equipment and machinery, as well as all other types of nonhazardous domestic waste.
Domestic clearance for residents of Denmark Hill
Our specialised junk removal services in Denmark Hill also include top to bottom house clearances – we will have the place stripped of its contents quickly, safely and efficiently. Our guys will even sweep out the place after finishing the clearance and removal of items. We also offer convenient and inexpensive skip hire. The service does not require any permits of waiting periods of customers as we are licensed, registered and insured junk removal company in Denmark Hill. We operate a number of skips of various sizes and load capacity.
Our time and expertise will not set you back thousands, quite the opposite actually as our rubbish removals in Denmark Hill are just what your household budget needs! We quote each customer individually, onsite if necessary for more accurate estimation. We apply customised pricing to all services in order to meet specific budget needs, and only charge for rubbish we actually remove.
We hold permits for using all waste processing and recycling depots in London, which means none of the waste we collect ends up in landfills. We are very serious about our extensive recycle and reuse program and will return valid waste transfer notes to customers upon request.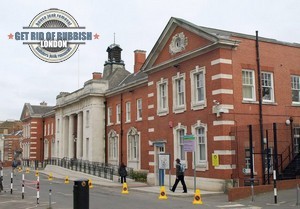 Our residential customers can be sure to receive the most convenient, versatile and efficient rubbish removals available right now:
We offer flexible bookings hours and no-fuss accommodation of last minute bookings and overnight service requests;
We maintain punctual and attentive customer support via phone and email, during all days;
We ensure quick loading times and on-time job completions;
We collect and remove waste from anywhere on the property;
The suburb of Denmark Hill was first called Camberwell High St. It took its present name from Queen Anne's husband – Prince George of Denmark, who enjoyed hunting the district. Until the eighteen hundreds, there wasn't much development or infrastructure in Denmark Hill. First urbanisation and construction projects took place on former land assets of the De Crespingy family – French Huguenots who were forced to leave France a century earlier. Their manor house – Champion Lodge was demolished in the eighteen forties to open up room for more housing. The area's first church was completed in eighteen forty six, in place of an older priory building. However the church was completely destroyed in the German Blitz raids of WWII. Construction of homes in Denmark Hill has always put emphasis on spacious villas, rather than high-density terraced housing.