Kingston Upon Thames is a thriving market town situated 12 miles from central London and a 25-minute train ride from Waterloo. It lies on the banks of the river Thames and is known for its themed markets, thriving arts scene, outstanding restaurant scene, colourful shops and many other. Kingston is a popular tourist attraction with a number of outstanding places to visit and admire, including:
Hampton Court Palace
Kew Gardens
Bushy House
Kingston Museum
Dorich House Museum, etc.
Whether you are planning a visit or want to move to Kensington, you won't be disappointed because it has something for everyone. It has it all for a fun day out with the whole family and great schools. It offers a great nightlife and club scene, but it is also a hub for art and culture. On top of all this, you can find renowned waste removal in Chessington KT9 should you need one. Here are a few areas in Kingston you should consider if you're planning to move here.
Pictured: Old Town Hall, Market Place, Kingston
New Malden
If you're looking for an area with affordable housing and great schools, then you should definitely consider New Malden. This area is a great place for families as there are nearly five times more houses for sale than flats, which are mainly 20's and 30's detached, semi-detached and terrace houses. Such houses are found in the Groves conservation area, Presburg Road and the Christchurch conservation area.
New Malden is also known for being the largest Korean community in Europe. As you can probably assume, New Malden is perhaps the best place in Britain to taste Korean national dishes in many Korean restaurants lined in New Malden High Street. Aside from restaurants and bars, here you can find a popular cricket club, Malden Wanderers, and a number of golf courses.
New Malden has an easy commute into central London. Stations serving local residents are:
New Malden
Berrylands
Motspur Park
Malden Manor
Norbiton
Additionally, you can opt for quality waste removal services in New Malden KT3 and enjoy a stress-free waste clearance experience.
Coombe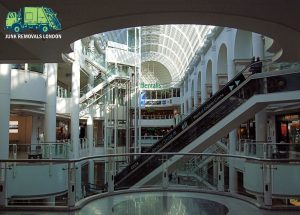 The next area on our list worth of checking is Coombe. Whether you are a retiree seeking after some peace and quiet or looking for a roomier home for your family, Coombe is a stylish and secluded neighbourhood with three private estates: Coombe Hill, Coombe Warren and Coombe Park. There is also a superb waste removal in Coombe KT2 you can hire at a reasonable price. If you have kids, you will be delighted by Coombe Hill Junior School, St Paul's C of E Primary and Alexandra School, all rated outstanding.
Since Coombe is just two miles from Kingston, you can enjoy shopping in unique shops, vibrant markets, as well as the remarkable Bentalls Centre. If, on the other hand, you are looking for opportunities for walking and cycling, you can go to Richmond Park, which is just a short stroll from Coombe. Coombe is well-connected, with Central London within easy reach by rail. Road A3 connects the residents to Heathrow and Gatwick airports.
Pictured: Inside The Bentalls Centre, Kingston
Living in Hook
Hook is ideal for young families and commuters. One of the reasons why young families with children choose to live in the area is for its superb local schooling. Popular primary schools are Hook Infant, Hook Junior School and Whitewater Primary School. Robert Mays Secondary School is rated outstanding by Ofsted. Commuters choose Hook for its excellent links to London Waterloo, reachable in less than an hour, and to the M3 and M4 motorways. Shopping is decent and you have a few shops, restaurants and bars, but you can visit neighbouring Odiham, Hartley Wintney and Basingstoke for a better experience. The area offers licensed and certified rubbish removals in Hook KT9, ensuring quality service at great prices.
Hook is technically a village. Even though most of the village was built in the late '80s and early '90s and it compromises of modern houses within estates, it still continues to have the feel of a village, especially in the surrounding area where there are pretty villages with a lot of green, farmhouses, cottages, country pubs, etc. Some of them are Rotherwick, Newnham and Greywell, which is famous for being one of the best-kept villages in Hampshire.