Going head to head with domestic junk and rubbish is the only way to get rid of it once and for all. However instead of toughing it out on your own, wouldn't it be better to have a bunch of qualified and experienced professionals such as ourselves deal with the situation for you? If you think so, then waste no time and get in touch with the most efficient and reliable junk removal company in Gospel Oak – that would be us, and take full advantage of our versatile and inexpensive waste management solutions for domestic purposes.
Residential customers based in NW3 and NW5 can rely on us to provide them with top quality services without the usual hefty price tag. We only charge for rubbish actually removed. We stick to flexible pricing schemes on all services and provide individually prepared service quotes. For a more accurate job estimate we will come out to you for an onsite quotation. Mind you, the viewing or onsite quotation will also help us structure and format the service in the most suitable and efficient way.
General and specialized waste clearance
Our junk removals in Gospel Oak also include specialised options like:
Top to bottom house clearances – our clearance teams will strip the place of its entire contents in a matter of hours, without risking damage to premises itself. The guys will sweep out cleared rooms and areas upon finishing the job.
Flexible and convenient skip hire – no permits or waiting periods required on behalf of customers are we are fully certified, registered and insured. We operate skips of different sizes and load capacity.
Sustainability and eco-friendliness are two essentials we are very serious about. This is one of the main reasons why we have permission for using all junk/waste processing depots in London, where we deposit all salvageable waste material (recyclables) we collect. We aim to reduce the environmental toll of consumer society, even if just by a little bit.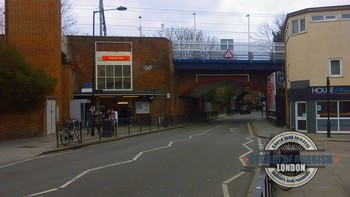 Use our versatile range of domestic rubbish removals in Gospel Oak for the quick and efficient removal and disposal of things like:
All types of nonhazardous domestic waste (including small bits and pieces of clutter);
After builders junk / post renovation leftovers / discarded construction supplies (no asbestos);
Garage and basement rubbish, old tools equipment and machinery (oil & fuel must be drained);
Garden debris, green refuse, backyard junk of all shapes and sizes;
Redundant white goods, old furniture, awkward/bulky unwanted items;
Old/damaged household electronics, all other types of WEEE Directive waste;
Customers receive flexible booking hours during all days. No-fuss accommodation of last minute bookings and late night operations, as well as twenty four seven assistance via phone and email.
Some of the local people refer to Gospel Oak as Hampstead Bottom as the suburb is situated between Kentish Town and Hampstead. As its name suggests, Gospel Oak is the apparent location of an ancient oak tree under which a host of legendary figures are said to have preached. Some of these people apparently are St Augustine, Edward the Confessor, St Paul and John Wesley. Once, the oak tree in question marked the boundary between St Pancras and Hampstead. The tree itself disappeared in the nineteenth century, in the same mythical way it came to existence – no one has seen it, and no one has seen it go either. Nevertheless, the story and legend remained strong.