You can put off dealing with junk only a limited amount of time. In the end you have to make sure that the heap of useless old items has finally embarked on its final trip to the junkyard or the recycling facilities. The first thing you must do is establish the fact that "usable" and "useful" are two completely different categories of items. In other words – just because the old electrical oven works, does not mean it holds any value to you, as you're not actually using it. Having come to terms with these realities it is time to grab the phone and call us to carry out your junk removal in Manor Park.
The safe way to do a junk clearance
You might be tempted to deal with the situation yourself but it is most likely you'll be spending too much time and energy on a problem that is more easily resolved by hiring professionals. We'll not only spare you the unpleasant and tiresome work but also prevent you from potentially injuring yourself – muscle strain and twisted ankles are very common consequences for untrained people taking a shot at large scale waste clearance. Getting a licenced company like ours will result in a much smoother clearance process and overall much quicker rubbish removal in Manor Park.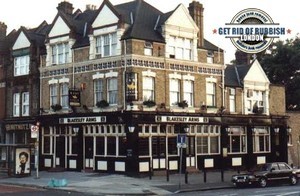 Even if the amount of junk might seem too much to handle we're still up to the challenge. Our team can easily handle even something as complicated as builders waste clearance. Usually skip hire is a real headache – there are permits and licenses to consider and the timing is often inconvenient. You can forget about all of that when you hire us. We will take care of all the paperwork. All you have to determine is whether your junk removal in Manor Park should actually involve a skip. More often than not, a professional and fully equipped junk clearance vehicle is more than enough for all of the waste to be collected and safely transported to the nearest rubbish disposal site. That is also the more cost effective way to handle the task, as we'll charge you via custom rates according to the volume of the rubbish, rather than the full price of a skip.
Manor Park is an area in the borough of Newham that has lately became an attractive place for Londoners to move in. This multicultural area of London until recently got most of its new residents from Asia and East Europe. However in recent years, the affordable local real estate prices have started drawing a lot of Londoners from other boroughs to move here. There are a number of older buildings in the area that comprise Durham Road Conservation Area which was established in 1984 to preserve the Victorian style buildings and the particular look and feel of this part of London. Probably the most notable landmark in Manor Park is the pub of Earl of Essex which was established more than a century ago and is currently a Grade II listed building.