If domestic rubbish is eating up valuable living space at home, then you definitely need to do something about it. Before you roll up the sleeves and tackle the job though, take a moment to consider the time, effort and resources required on your behalf for one such tricky and laborious chore. If you decide that there is a more efficient and manageable way to deal with the situation effectively, then by all means turn to us and choose from our versatile and inexpensive domestic rubbish removals in De Beauvoir Town, as they really are the most efficient and manageable way to get rid of all that waste that's cluttering your home.
Book the best junk removal team in De Beauvoir Town
With us, you can be rest assured that everything concerning your household rubbish removal will be handled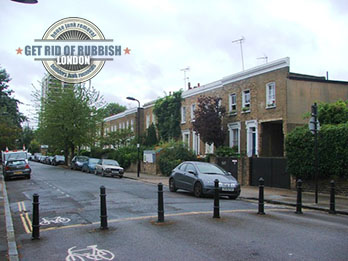 properly and efficiently, without any margin for error, or unnecessary hassles. We are a fully licensed, registered and insured junk removal company in De Beauvoir Town and as such we have the technical capacity, service expertise and manpower to remove and dispose of things like:
All types of general, nonhazardous household waste, including those small bits and pieces of clutter which are a real nuisance to get rid of;
Garage junk and basement rubbish, such as old/damaged tools, equipment and machinery – these however must be drained of any remaining fuel and oil prior to removal and disposal;
Single odd items which are a real problem to navigate through tight spots, things like old furniture pieces and bulky appliances will be no problem for us;
After builders junk, post renovation rubbish and leftover/discarded construction supplies, except for asbestos and asbestos containing materials;
Redundant household electronics and old/damaged IT equipment – dismantled and disposed of as per WEE Directive regulations;
Garden debris, green refuse and backyard junk of all shapes and sizes;
In addition, our junk removals in De Beauvoir Town also cover top to bottom house clearances and specialised skip hire, both options are well priced and do not require any licensing or waiting periods.
Since we consider ourselves an environmentally responsible service provider, we recycle and reuse all salvageable waste material we collect. We have permits for all London junk and recycling depots.
Important information which customers in the N1 area must be aware of:
All work carried out by trained and qualified technicians;
We offer flexible pricing and individually prepared quotes, onsite if necessary;
Access to twenty four seven customer support via phone and email;
Flexible booking hours, late night operations and last minute bookings;
De Beauvoir Town can be described as a suburb of contrasts. Nothing stark, but there is a notable difference between the council blocks on one side of the suburb, and the well preserved and maintained Victorian villas on the other side – typical London. At the start, the area was a farm, called Balmes Estate, which was purchased by Richard De Beauvoir in sixteen forty. For the next two centuries, the land in the district remained agricultural, until development and construction of urban infrastructure took off after the eighteen twenties. The cutting of the Regents Canal was one of the reasons why. Urbanisation and construction of spacious, luxury homes continued, the estate now featured De Beauvoir Square and the spending infrastructure and spacious residential options, made the area popular with wealthy people from the City of London.