Don't waste precious time and effort in dealing with domestic rubbish removal on your own, when you can have the most reliable and punctual junk removal company in Cranford handle everything for you from start to end, in the most professional and affordable fashion. We specialise in the quick, efficient and safe removal of all types of nonhazardous domestic waste, from small bits and pieces of clutter to removal of entire room contents and all in between.
Our time and expertise will not cost you silly money, quite the opposite as we provide the most affordable, value for money rubbish removals in Cranford, and the rest of the TW5 area. Domestic customers can turn to us for the efficient removal and responsible disposal of:
General domestic rubbish of all shapes and sized (except for hazardous waste material);
Garage junk and basement rubbish like old equipment, damaged machinery, tools etc.
Garden debris, green refuse, backyard rubbish, outdoor junk etc.
After builders and post renovation junk, as well as discarded building materials (no asbestos);
Single odd items, bulky appliances, old furniture and music instruments, etc.
Redundant electronics, old IT equipment, all other types of WEEE waste;
Responsible waste handling
We deposit salvageable waste material for processing and recycling by the relevant depots and plants. We hold permits for using all junk depots in London and will provide customers with valid waster transfer notes. We deposit non-useful waste materials for incineration – better than ending up in landfills for sure. We give items in good working order to charities where they are reconditioned and made available to people in need.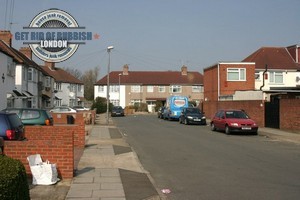 In addition to our versatile and efficient junk removals in Cranford, we also offer customers specialised waste management options like comprehensive house clearances and inexpensive skip hire, without any permits or waiting periods involved.
For more efficiency and extra peace of mind, we work with experienced clearance teams made up of qualified technicians who know their work inside out. There will be no costly delays, or risk of damage to premises.
Our junk removal services in Cranford are fair priced and affordable. We can quote customers onsite for more accuracy, and provide flexible pricing able to meet specific budget requirements.
We maintain round the clock customer support via phone and email during all days, and accommodate for last minute bookings and overnight operations without any extra costs or hassle for our customers.
Cranford is a satellite residential community of Heathrow. The settlement began its existence as a Saxon village, formed on what became known as Hounslow Heath. The first manor of the district – Cranforde appears with a detailed account in the Doomsday Book of ten eighty six, and was described as the prettiest village in Middlesex. Although bridges and other road infrastructure was present in the village at an early time, Cranford remained a quiet, backwater community all the way up to the twentieth century. Cranford Park which was once within the grounds of Cranford House is the site of many medieval structures and places of interest, including underground escape tunnels, a tiny overnight prison cell for misbehaving locals, a medieval church and a few more.