Barnet is a North London borough that is reputed for its very fine suburban developments. The area also contains a number of pretty great open green spaces, some of which are really famous. Places such as Brinswick Park have even spawned a number of really fashionable residential areas. Others however, deserve much more attention that they are currently getting. The parks and open grounds around Barnet, matched with the great waste management services available in North Finchley for example, along with other amenities available, make Barnet indeed one of the best places to live in London today. So, let's check out our list of small and lesser known, yet fabulous green spaces here.
Barnet Gate Wood
Located very near the district of Colney Hatch, Barnet Gate Wood is part of the Watling Chase Community Forest. In this small but ancient wood, you are going to find hosts of oak and hornbeam trees – a really serene place to go for a walk on a lazy weekend afternoon. You can easily access Barnet Gate Wood from Hendon Wood Lane, very near the junction with the famous Barnet Road, a major artery in the borough.
Darland's Lake Nature Reserve
Since 1971 this really beautiful nature reserve has been under the management of the Hertfordshire and Middlesex Wildlife Trust and the local council. A number of grass snakes, amphibians, fungi and invertebrates that populate its territory make the Darland's Lake Nature Reserve scientifically important and led to its current status. The lake itself is mid-sized but shallow.
Rowley Green Common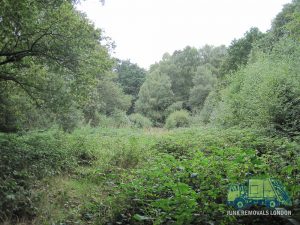 Another nature reserve that definitely deserves your attention is the six hectare large Rowley Green Common. A combination between a woodland and a heathland, it is home to one of the few remaining peat bogs in England at the present moment. The nearby Rowley Green Farm offers access to the common. An interesting fact concerning the place is that the army used the land for manoeuvres during World War II, which was actually one of the last instances in which Rowley Green Common actually got in the public eye.
Stoneyfields Park
A fine example of an open green space that gave a push forward in the development of a comfortable and well adjusted residential area is the small Stoneyfields Park. Much like the other examples that we have given on the list, it has a designation as a Site of Borough Importance for Nature Conservation, Grade II. In addition to grassland and trees, here you can find a really fine play ground.
Coppett's Wood and Scrublands
Coppett's Wood cover well over 14 hectares and forms part of the much large territory that goes by the name of Finchley Wood. The local sewage works, closed by the end of the 19th century and the fact that highwaymen used it as a haunting were responsible for much of its reputation, but today Coppett's Wood and Scrublands are hundred percent save – and we even encourage you to check them out next time you have the chance to.