Rounding up household rubbish from tight to navigate spots like attics and basements can be a real nuisance, especially when chasing a deadline and trying to spare the place from damage during handling and removal. Regardless of whether you need to get rid of post renovation rubbish, or want to clear out a couple of rooms destined for remodelling, you will appreciate some qualified assistance on our behalf. So, why use our professional grade junk removal services in Colney Hatch instead?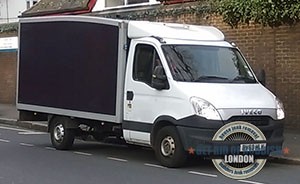 First of all, we have extensive expertise and sufficient technical capacity, meaning we deal effectively with the removal and disposal of all types of nonhazardous domestic waste, including but not limited to bulky white goods and old furniture pieces, garden debris and green refuse, garage junk and basement rubbish, after builders junk and leftover construction supplies, small bits and pieces of clutter, all types of domestic WEEE waste.
Our junk removals in Colney Hatch (available throughout the N10 and N11 areas) also deal with large scale removal and disposal requirements. Domestic customers can turn to us for versatile and inexpensive skip hire service without any permits of waiting periods involved. We also organise for comprehensive property clearances and will make sure the place is stripped of its contents, and then swept out with no delays or further issues.
Since we want our rubbish removals in Colney Hatch to be sustainable means of waste disposal, we hold permits for using all recycling depots in London where we transport all salvageable waste material like discarded paper, plastic, metal, glass and wood.
Highly professional team of clearance experts
Some technical information regarding our junk removal and disposal solutions:
We are fully licensed, registered and insured junk removal company in Colney Hatch;
We work with qualified clearance teams and maintain a fleet of specialised junk removal vehicles;
We ensure quick loading times and on-time job completions;
We have excellent short notice availability and will be able to accommodate for last minute bookings and overnight service requests;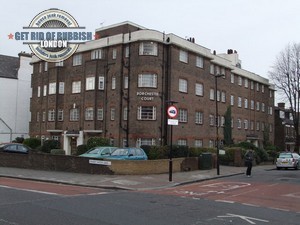 Our customers will be glad to know that we provide round the clock support via phone and email. Furthermore, we will come out for an onsite quote so that we are more accurate in our pricing. We offer flexible price schemes for all services and only charge for rubbish we actually remove.
In the past, Colney Hatch was best known for its large insane asylum (as such institutions were known back in the day), however the area has changed dramatically since those days, and is now a fully transformed residential locality. Colney Hatch was hamlet which formed in the early fourteen hundreds. It is believed it was also the site of a road gate to Hollick Wood. In the early nineteenth century, Colney Hatch was still quiet and rather unpopulated, with only about thirty something inhabited homes. This was soon to change dramatically, as the area was chosen for the construction of the Middlesex County Lunatic Asylum. Most of the old village was engaged in production and supply for the mental institution as the three thousand patients and numerous staff required everything from a doctor, to a shoemaker, to a brewer. For many years, this was the biggest such institution in Europe, and the name Colney Hatch became synonymous with mental disorder.