When faced with tough and time consuming rubbish removal chores at home, you have two options at your disposal – invest time, effort and resources into dealing with everything on your own, or investing a little bit of money in one of our highly efficient and affordable domestic junk removal services in East Barnet. In our opinion as a professional service provider, and the most punctual and efficient waste clearance company in East Barnet, we believe our domestic waste management solutions to be the better alternative in every sense of the word. Here is why:
Our service options are flexible and versatile – we collect all types of nonhazardous domestic waste, including after builders junk and discarded construction supplies, garage and basement rubbish, green refuse and garden debris, old furniture and bulky white goods, WEEE waste, and many more;
We offer affordable services to all households in the EN4 area – customers only pay for rubbish we actually remove, we provide individually prepared service quotes (if necessary onsite for more accurate estimate), and stick to custom pricing schemes in order to meet specific budget requirements, there will be no hidden fees or other such nuisances;
Our rubbish removals in East Barnet are punctual and reliable – all work carried out by trained and equipped technicians, no risk of property damage or personal injury, waste removed from anywhere on the premises, including tricky spots like attics and basements;
Our junk removals in East Barnet also comply with environmental regulations and ensure responsible means of waste disposal – we implement an extensive recycle and reuse program, and have permission to use all junk depots in London;
We offer additional large scale removal and disposal options – customers can turn to us for comprehensive house clearances, or specialised skip hire, both services are genuine value for money and very convenient as there are no permits or waiting periods required.
Get a non-binding service quote today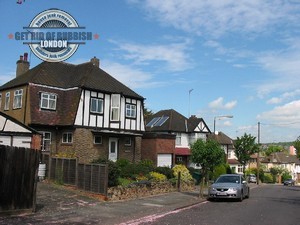 Our customers also receive end to end coverage and support – we provide round the clock customer assistance over phone and email during all days. We maintain high availability and offer flexible booking hours. We are able to accommodate last minute bookings and overnight service requests.
The suburb of East Barnet began as a medieval village. East Barnet was actually the village from all other surrounding settlements formed and expanded. At East Barnet there was a medieval cattle bridge connecting both banks of the river – this was another reason why the area grew and expanded quickly, and became the more dominant village. East Barnet also has one of the oldest known churches in the entire district. St Mary's Church is believed to be of twelfth century origin at the latest.  Before the sixteen hundreds, although East Barnet was a significant spot on the map, there wasn't much going on in terms of large scale development or urbanisation. The first official recording of anything taking place in the area was the construction of a late twelfth century mill. The next recorded event was the formation of Clockhouse Mansion, documented in early fifteen hundreds. During those centuries, there were only about thirty – forty known houses in the area. During the seventeen hundreds, gentlemen from the City began building of country retreats in East Barnet, which also brought development and urbanisation.