Let's face it – the old couch is not going to throw itself out, and the basement is not going to clear out itself either. However, this doesn't mean you have to roll up the sleeves and spend your hard earned free time in rounding up and disposing of old junk and rubbish, as you can turn to us and take full advantage of our versatile and affordable junk removal services in Elm Park, which mind you are also available for booking by all residential customers in the RM12 area. We have the necessary technical capacity, service expertise and manpower to organise and handle any type of domestic junk removal without any issues or glitches along the way. Our guys are specially trained professionals who know their work inside out – there will be no margin for error or risk of costly delays. By all means turn to us for quick and safe removal and disposal of:
All types of nonhazardous domestic waste;
After builders junk and post renovation rubbish;
Leftover / discarded construction supplies (no asbestos please);
Garden debris and green refuse, backyard junk;
Basement rubbish and garage junk, old equipment tools and machinery;
Redundant appliances, WEEE Directive waste;
Old furniture, single odd items;
Being an experienced junk removal company in Elm Park, we know that in many instances customers need more than general purpose rubbish removal options, this is why we offer specialised waste management solutions like skip hire and house clearances. Our house clearance service is fully comprehensive yet very cost effective. The skip hire service doesn't require any licensing or waiting periods as we have everything covered.
Junk removal services everywhere in Elm Park and the rest of London
Being an established service provider, we also have permits for using all recycling depots in London, because we understand the importance of sustainable means of waste disposal. We recycle and reprocess all salvageable waste material. Waste transfer notes will be provided to customer on request.
Our top grade rubbish removals in Elm Park will not cost you silly money. We aim for genuine value for money, and budget-minded service provision, because of this we:
Apply customised pricing to all junk removals in Elm Park;
Provide individually prepared service quotes;
Only charge for rubbish we actually remove;
Some additional advantages for our customers are:
Twenty four seven support available via phone and email;
Flexible booking hours during all days, including Sundays and public holidays;
No-fuss accommodation of last minute bookings and late night operations;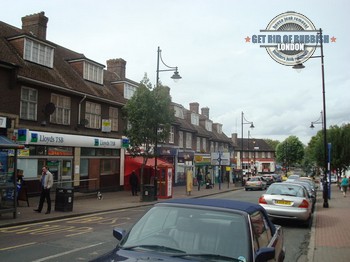 Elm Park is the result of a large scale construction effort, initiated by a Liverpool-based company called Richard Costain and Sons. The project was supported and financed by the Halifax Building Society. Until then the area was occupied by Elm Park Farm. Construction of homes initially began on one side of the park, and then expanded. Some say that the area's layout was to an extent influenced by the garden city movement, though there are no actual evidence in support of this theory. Elm Park was also co-financed by the actual building company which undertook it. Richard Costain himself financed the construction of the local train station, which in nineteen thirty five was the last station to be put in operation on that line. During the nineteen thirties, Elm Park was marketed as the place to be for spacious, heathy and fresh everyday living.