When it comes to effective household rubbish removal and disposal, you need a reliable and experienced service provider that knows how to handle the task properly. Since we are a fully licensed, registered and insured junk removal company in Chase Cross, and have the necessary expertise and capacity, we believe to be that reliable service partner.
We specialise in the quick and efficient removal and disposal of all types of nonhazardous domestic waste. We handle each service request with the necessary precision and efficiency, but best of all we do it without costing customers a small fortune. We maintain moderate service prices through onsite quotations, flexible pricing schemes and no hidden fees.  Our rule of thumb is – customers only pay for the rubbish we actually remove.
Prepared junk removal experts in Chase Cross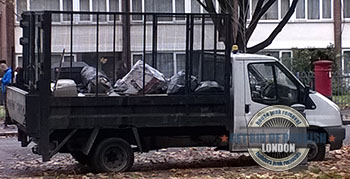 Our efficiency and reliability comes from the diligence and expertise of our specially trained and equipped waste removal teams. Furthermore, we own a fleet of different size and load capacity rubbish removal vehicles as this gives us the necessary service efficiency and flexibility.
We believe that our junk removal services in Chase Cross are the sensible, affordable and practical solution customers need. Here are some of the important advantages of using our service options:
Waste collected from anywhere on the premises, even tricky spots like attics and basements;
Quick loading times, no costly delays or unexpected setbacks;
Access to specialised skip hire – no permits or waiting periods required to use the service;
Comprehensive property clearances provided at excellent prices;
Flexible scheduling and high availability during all days for the RM5 area;
No-fuss accommodation of late night operations and last minute bookings;
Valid permit for using all recycling depots in London;
Punctual and attentive customer support over phone and email, available twenty four seven;
Our junk removals in Chase Cross are sustainable waste management solutions as we recycle and reuse all salvageable waste material we collect. Waste transfer notes will be provided upon request.
Varied rubbish clearance options
Our range of versatile rubbish removals in Chase Cross covers the removal and disposal of:
Old furniture, single odd items, bulky white goods;
Garage junk including old tools, equipment and machinery;
After builders junk and post renovation rubbish;
Leftover or discarded construction supplies (no asbestos);
Garden rubbish and green refuse;
Redundant electronics and IT equipment (as per WEEE Directive regulations);
Chase Cross is a suburb of northeast London. The district's name most likely comes from its geographical location – a crossroad in the former hunting grounds of the Hainault Forest. Not much is left of the Hainault Forest today though as most of it was cleared for agricultural purposes prior to the eighteen fifties. After that, the land was used for construction of housing and urban infrastructure which took place in the nineteen thirties. Although Chase Cross sits near the northeast boundary of Greater London, the suburb is well connected through bus and rail with the rest of the city. Chase Cross is situated on what is now an important commercial and transport intercity route, which is the B175 main road and the A12.