Taking care of domestic rubbish removal on your own effort is demanding and usually ends up being a rather frustrating and expensive ordeal. In our opinion as an experienced and reliable team doing junk removal in Earls Court, it is much better to use specialised assistance as this would save you tons of time, effort and money. We can live up to the task and handle your domestic rubbish removal needs in an efficient and affordable manner, without making a nuisance of ourselves in the process.
We have the expertise, technical capacity and manpower to organise and complete the removal and disposal of things like:
General (nonhazardous) household waste, including small bits and pieces of clutter, scattered in hard to reach spots like basements and attics;
After builders and post renovation rubbish, as well as discarded or leftover construction supplies, except for asbestos and asbestos containing materials;
Garden debris, green refuse and backyard junk of all shapes and sizes, including those two garden gnomes that you have been meaning to give the boot for months;
Redundant household electronics and IT equipment – dismantled and disposed of as per WEEE Directive regulations;
Single odd items like bulky old furniture pieces, heavy white goods, and everything else that won't fit in the boot of your car.
Do a junk removal in your home in Earls Court
Domestic customers in the SW5 and SW10 areas, can also turn to us for fully comprehensive house clearances and flexible and inexpensive skip hire. Both services are genuine value for money and do not require any permits of waiting periods.
Since we aim to provide the most affordable junk removals in Earls Court, we quote each customer individually and onsite if necessary, we offer custom tailored pricing able to meet specific budget needs, and only charge for rubbish we actually remove. No hidden fees, no unmentioned charges.
Our rubbish removals in Earls Court ensure responsible means of waste disposal. We have permission for using all recycling depots in London and will return valid waste transfer notes to customers for all recyclable waste we deposit for processing.
When we provide junk removal services in Earls Court we aim to provide flexibility and convenience to our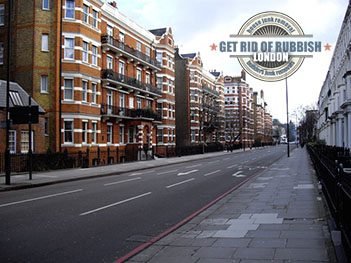 customers:
We maintain round the clock customer support via phone and email, seven days a week;
We offer flexible booking hours and accommodate last minute service requests as well as late night operations;
We ensure quick loading times as we work with trained and qualified clearance teams;
Earls Court is situated in Central London, within the borough of Kensington and Chelsea. The area is home to the country's largest indoor arena, which is also a popular concert venue – Earls Court Exhibition Centre. Originally, Earls Court was a rural district, known for its market garden and luscious green fields. Prior to the Norman Conquest, it was the Saxons who owned the district. After that, and for the next five centuries the land, and all the assets on it were owned by the Earls of Oxford. The first church in the area is known to have existed since the early tenth century. As with many other London districts, the arrival of the railways in the eighteen sixties /seventies signalled the start of heavy urbanisation and extensive infrastructural development.