Minimizing the amount of rubbish produced by households is a positive step toward success in the batter for environmental protection and more sustainable, healthy living. Many people, however, perceive zero-waste practices as tedious, too big-big-a-commitment. Well, this cannot be further away from the truth.
If you are willing to make the effort to make the world a better place, while at the same time reaping the benefits that such an endeavour would bring to your household, your family and yourself, here are some very good strategies that are going to get you started:
Banish clutter and junk from your property
The first step to take is to make sure that the amount of rubbish accumulated at your home at this moment is removed. You can do that by going through your rooms and do the job on your own, but if it proves to be too ambitious a task for you, just call your local junk removal services in West Green N15 and get professionals to do it for you.
Once the majority of the rubbish is collected and properly disposed of, you can keep clutter at bay by implementing a number of useful strategies:
Designate space for each and every item you use on daily basis around the house and put it back once you are finished with it;
Place a small bowl near the front door for your keys, wallet, change and other things you need when you are going out;
When de-cluttering, work one room at a time;
Compost
Organic waste takes up a large portion of the rubbish produced by a household. It is however easily put to good use by composting. Basically, the process turns organic waste into substances that can be implemented in enriching the soil in your garden and potted plants. You can build compost even if you have no outdoor space, and many neighbourhoods are now creating communal composts to be used for the common good of the area.
Forget about plastic bags and containers
Plastic causes more pollution than one can imagine. That is why giving up on plastic shopping bags, water bottles and food containers can make a huge difference. Go for more permanent solutions such as bags made out of linen, glass bottles and containers for your water and food. You will find it cheaper in the long run, more sustainable and healthier too. This might be the greatest change you will have to adjust to, but it is worth it for sure.
Recycling is your friend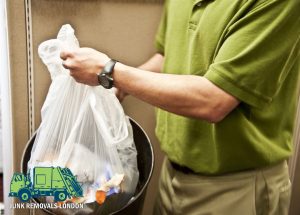 In order to efficiently recycle the waste that is being produced by your household on a daily basis, you do not need to make big sacrifices. Recycling is being encouraged and even made mandatory by some local councils throughout the English capital. There are various rubbish removal companies in the city that provide a vast selection of convenient solutions including loft or garage clearance and eco-friendly builders waste clearance services in London. However, the change should come from within, e.g. from your own household. The biggest investment that you will have to make would be for wastebasket for the different types of rubbish – plastic, metal and paper, but they are unlikely to take up too much space in your home or strain your budget in any way.