Hackney is one of the most exclusive places in London a person can live in. There are many reasons for this. First and foremost, the borough is located in the immediate vicinity of the heart of London – the City and Westminster respectively. It has historically been a prestigious place to own a home in, and its close proximity to all major transport hubs, institutions and attractions of Central London make its current and future status perfectly clear.
An important note to make is that even though it is located in some of the most central spots on the map of the capital, Hackney is in no way a polluted or unpleasant place. As you may already know, there are strict regulations for protecting the urban environment in Central London, in terms of waste management, vehicle use and many more. On top of that, London is the greenest city of its size in the world, with more green spaces of various sizes spread across its territory than any other megalopolis you can think of. Hackney is no exception to this general rule. If you live here, finding dependable rubbish removal in Dalston E8 for example, or speedy waste clearance in Manor House N4 is not going to be a problem at all. And you will reap many more benefits. Let's see what we can say about some of the major residential areas in Hackney.
A true classic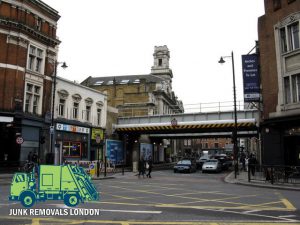 Shoreditch is one of those places people immediately fall in love with when they visit. Part of the East End of London, and benefiting from excellent junk clearance in Shoreditch N1, great transport links and cultural heritage to match its position, the district is indeed one of the best places in the capital to settle down at. The old town centre is dominated by the beautiful Shoreditch Town Hall. The area is just 2.5 miles (or 4 km) away from Charing Cross. After WWII, Shoreditch transformed from a traditionally working-class community into an area fashionable with the artistic circles in the capital. Even more recently, by the end of the 1990s, and the beginning of the 21st century, Shoreditch became home to some of the biggest web-based businesses in Britain, including but not limited to:
fm
Dopplr
Songkick
SocialGO
7digital
Pictured: Shoreditch Town Hall as viewed from East End Street
The residential architecture here is an eclectic mix of late Victorian housing, developments from the inter-war period and more modern blocks, houses and office spaces. It is just like the nearby Stoke Newington, which like Shoreditch benefits greatly from the strict environmental policies of its local council, and the privately-run, excellent junk removal services in Stoke Newington N16. Both districts offer a healthy environment for its residents, which is just one of the many reasons why they are so preferred.
And two more options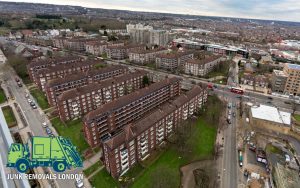 We have already had the chance to mention the district of Manor House. It lies on the outskirts of the borough to the North, and as such is considered to be more peaceful, less-stressful than the neighbourhoods that are closer to Central London. The area was originally called Woodberry Down, after the biggest housing estate here, and acquired its modern designation in 1932. Good news for people looking to purchase property in Manor House is that property prices here are relatively lower still for the average for Central/North London. Since 2007 however, the old Woodberry Down estate has been going through major renovation, so chances are that prices will skyrocket here as well pretty soon. If you are looking for a green and cheap place in Hackney to buy a house in, do not wait for too long.
Pictured: Aerial view of the Woodberry Down estate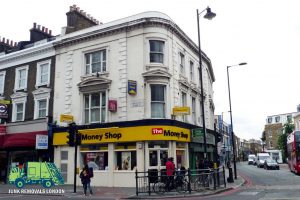 Nearly the same can be said about the district of Dalston, with the exception that gentrification here has said its final word. Property prices in Dalston are some 8% above the average for London. But at least you know you pay for quality. The district was part of the 2012 London Olympics and the many development projects that took place prior to the Games have left its positive mark on the area. A curious fact is that the former PM Tony Blair used to live in Dalston, and so did other notable people such as actress Emily Lloyd and the comedic duo of Stephen Fry and Hugh Laurie.
Pictured: The area of Dalston in London