Just when you thought your home was free of any junk and rubbish, you come across that old washing machine you thought you threw out years ago, or that redundant lawn mower that is half buried in the backyard after yet another winter of rain and snow. So what needs to be done now? Well, our advice as a professional junk removal company in Eltham is to use specialised assistance with your domestic rubbish removal requirements. Using our specialised waste clearance services in Eltham is guaranteed to save you time, effort and money, no matter how big or small the job. How does that work?
First of all, we have the qualification, licensing and expertise to handle the safe removal and quick disposal of all types of nonhazardous domestic waste, such as after builders and post renovation rubbish, garden debris and green refuse, backyard junk, basement and attic rubbish, old equipment tools and machinery, redundant appliances, old furniture, bulky odd items, WEEE Directive rubbish and many more.
Lowest prices for waste removal you can get in Eltham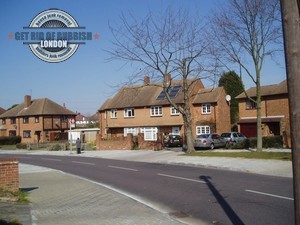 In cases where the entire property contents have to go, there and then we offer fully comprehensive house clearance service at excellent prices. We will have the place stripped back to bare walls in a matter of hours, and without risking any property damage. Our crews will even sweep out the premises after completing the job.
If customers in the SE9 area need a large scale alternative to curbside collection, our range of rubbish removals in Eltham also includes inexpensive skip hire. We operate skips of various sizes and load capacity. There are no permits or waiting periods required to use the service.
We appreciate and look after the environment, this is why we aim to reduce the amount of waste ending up in landfills. We do this through an elaborate recycling program, which we run in conjunction with all London waste processing depots.
In order to keep our service costs fair and reflective we apply a number of policies when forming our pricing:
We quote each customer individually, if necessary onsite for a more accurate estimate;
We apply a flexible pricing scheme to all junk removals in Eltham;
We only charge for rubbish we actually remove;
There are no hidden fees or unmentioned additional charges;
We work with specially qualified waste removal technicians. The company provides twenty four seven customer assistance via phone and email, and maintains high availability during all days.
Eltham is a growing and thriving suburb in the southeast of the capital. The area's name which was first recorded in the Doomsday Book of ten eighty six, comes from Old English, with is actual meaning being unknown. Eltham lays on a once strategic route between London and France, in result, the Plantagenet Kings converted the local manor house to a moated fortress in the fourteenth century. They used the place for rest overnight, when coming and going to France. Other royals also enjoyed spending time in what was now Eltham Palace. The area saw its heyday during the fourteen hundreds. After that however, The Tudor dynasty preferred spending time in Greenwich rather than Eltham, which signalled the decline in royal interest toward this particular locality.