When looking for the best way to get rid of junk and rubbish that's accumulated at your place, by all means don't go past our range of versatile and inexpensive junk removal services in East Sheen, as they are the most suitable solution to the situation at hand. We deal with the quick and safe removal and disposal of general household waste of all shapes and sizes. Although we don't deal with hazardous waste, we can assist domestic customers in the SW14 area by putting them in touch with relevant local authorities responsible for handling such waste material. Apart from that, turn to us for removal and disposal of:
Garage junk and basement rubbish;
After builders and post renovation junk;
Old tools, equipment and machinery;
Leftover or discarded construction supplies;
Green refuse, garden debris, backyard junk;
Old furniture, WEEE waste, redundant appliances;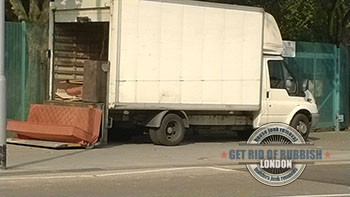 Our specialised rubbish removals in East Sheen, provide for sustainable means of waste management and aim to reduce the amount of rubbish ending up landfills, even if just by a little bit. In light of this we segregate salvageable waste material and transport it for processing by the respective plants and depots – we have permits for using all waste recycling and processing facilities in London.
Easy large volume junk removal solutions in East Sheen
We know that in certain cases, customers need something more large scale than the average junk removal service. Because of this we offer additional options like specialised skip hire – we operate different sized skips making the service versatile and efficient. In addition, we also organise for top to bottom house clearances, completed in the shortest time possible without risk of any property damage. No permits or waiting periods required on behalf of customers as we are registered, licensed and insured junk removal company in East Sheen.
With us domestic junk removal in East Sheen has never been more affordable as we offer the fairest quotes and most competitive pricing around. Each customer is quoted individually, and for more accurate estimate we will come out for a job viewing. There are no hidden fees or other such nonsense – you only pay for what we actually collect.
In addition, customers receive help and advice over phone and email, twenty four hours a day, seven days a week. We maintain high availability (including overnight services) and offer flexible booking hours.
East Sheen is usually described as a socially advantaged London suburb. Originally part of the Mortlake Manor, East Sheen was separated and designated as its own settlement in the year fifteen hundred. Before that, first official mentioning of the name was in twelve forty seven. Initially, and after the forming of East Sheen, there were to zones of dwelling in the village. All in all there were about twenty five or so houses in the area, but the settlement was slowly growing and the two zones of dwelling were gradually moving closer and eventually became one whole village. The first manor house of East Sheen was that of Temple Family, it was called Temple Grove and dated back to the seventeenth century. The next notable home in East Sheen was Stanwell House, having been built in eighteen thirty seven, the property featured extensive landscaped gardens and elaborate decorations. Although the railway didn't take too long to reach East Sheen, development and urbanisation was a little late come, but things pickled up as more land became available.