Some specialised assistance will go a long way when it comes to domestic rubbish removal requirements, especially when you have the best junk removal company in Earlsfield dealing with the situation! We are very confident in our service performance because we have the necessary experience, technical capacity and practical skills to organise and handle the quick and efficient removal and disposal of all sorts of domestic waste, ranging from small bits and pieces of clutter to bulky white goods. We also deal with things like garden debris and green refuse, after builders junk and leftover construction supplies, basically all types of nonhazardous domestic waste.
Skip hire – deal with lots of junk easily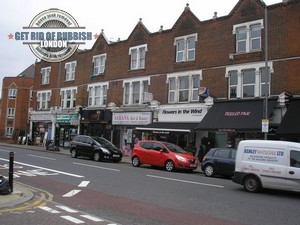 Residential customers in the SW18 area can also turn to us for specialised skip hire. A skip of the appropriate size and load capacity will be delivered to your address, and then removed as per your personal requirements. We operate a number of skips of various sizes and load capacity.
For instances where everything has to go, we can arrange for comprehensive house clearances and have everything cleared and removed in a matter of hours, without risk of property damage or any costly delays. We work with professional clearance teams, the guys will sweep out the premises after completing the job, so you have one less thing to worry about. Junk and rubbish is removed from anywhere on the premises, including tricky spots like attics and basements.
Our junk removals in Earlsfield are not only versatile but also sustainable means of waste disposal. We recycle and reuse all salvageable waste material we collect. We have permission for using all London junk depots and will return valid waste transfer notes to customers if needed.
When talking budget-friendly rubbish removals in Earlsfield, once again we are the people you need. Our customers will be rather pleased with our moderate service prices and our:
Individually prepared service quotes, onsite if necessary, for more estimation accuracy;
Custom tailored pricing to suit specific budget requirements set forth by customers;
Fair pricing policy on all jobs – we only charge for rubbish we actually remove;
The Service
Additional benefits
·         Initial viewing

·         Scheduling

·         Free estimate

·         Waste collection

·         Disposal

·         Last minute booking options

·         Bank holiday and weekend operations

·         Recycling

·         Basic Cleaning

·         24/7 customer support
Our range of junk removal services in Earlsifeld provides for the necessary convenience and reliability in all cases as we maintain punctual round the clock customer support via phone and email, offer flexible booking hours and no fuss accommodation of last minute bookings and overnight service requests.
Earlsfield is perhaps a typical London suburb, featuring mainly residential buildings of the Victorian era. The area has a well-developed high street with many shops, bars and restaurants. One thing about Earlsfield is that the area is not as well-known as the surrounding suburbs, and this is actually a good thing as it provides for low key, quiet living in close proximity to central London. Earlsfield is only twelve minutes away from London's Waterloo Station, Earlsfield own train station got a makeover in twenty thirteen. Originally, Earlsfield was a working class suburb which is reflected in the medium sized, terraced housing. These days, the suburb is populated by young families who are attracted by the relatively lower house prices and its key location.