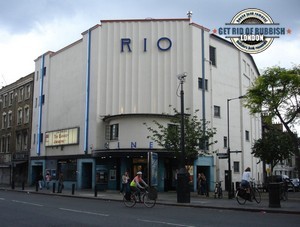 If you cannot imagine yourself elbow deep in household junk, on a hard earned weekend, trying to get rid of all that rubbish once and for all, then perhaps you can delegate this rather unpleasant chore to our professional junk removal crews – our guys are qualified and experienced in the quick and efficient removal of basically all types of nonhazardous domestic waste such as general household rubbish including small bits and pieces of clutter, leftover construction supplies and after builders junk except for asbestos, garden debris and green refuse as well as backyard junk of all shapes and sizes, garage junk and basement rubbish like old equipment, tools and machinery, also single odd items like bulky appliances and old furniture pieces, all types of domestic WEEE waste.
Our junk removal services in Dalston aim to encompass large scale waste removal and disposal requirements therefore we also offer our residential customers in the E8 area, access to comprehensive property clearances and flexible skip hire service. Neither service option requires any permits or waiting periods on behalf of customers as we are licensed, registered and insured junk removal company in Dalston. We have different sized skips at our disposal, and will deliver and remove the skip as per your requirements and availability.
Since we come across all sorts of salvageable waste in our day to day work, we have also made our junk removals in Dalston an ecofriendly service option which aims to reduce the environmental toll of consumer society. We do this through implementing an extensive recycle and reuse program, which we are running in conjunction with all waste processing depots in London, for which we have valid use permits. Items and goods in decent working order are given to charity organisations, where they are reconditioned and made available to people in need.
Get the best prices for junk removal and disposal from our company
In terms of service costs, our rubbish removals in Dalston are the affordable solution customers need, no matter how basic or complex their requirements. In order to maintain fair and adequate prices, we quote each customer individually, and stick to a flexible pricing scheme applicable to all services we offer.
On top of that, we provide our customers with attentive, round the clock support and assistance via phone and email, seven days a week, Furthermore, we offer flexible and convenient booking hours during all days, and will accommodate last minute bookings and overnight service requests quite easily as we maintain high availability.
Dalston is a suburb of northeast London, the adjacent area – Kingsland is also commonly referred to as Dalston by local residents. Historically, Dalston began as a farming settlement under the name Derleston. The name was first recorded circa twelve hundred ninety five. About a hundred years later, the settlement's name was changed to Dorleston from where its modern name is derived. By the eighteenth century, Dalston hadn't grown too much, the village consistent of a number of larger homes, surrounded by cottages. The upper middle classes showed interest in Dalston during the nineteenth century, and a wealthier cluster of terraced homes began to appear on one side of the village. The new part of the settlement was called Dalston Green, though by the mid eighteen hundreds (which is when the railway arrived) both settlements were somewhat fused together, and more building and expansion was taking place.