Having a house with a garden allows you to spend more time outdoors, make your own fresh produce or to host barbeque parties. But maintaining a garden costs money.  Even if you have a very small backyard, you will still need to rely on trusted garden clearance in London whenever you need to get rid of your worn-out patio furniture or garden waste such as branches, leaves and more. But before you call the rubbish collectors, try out the some of these waste-inspired landscaping ideas:
Turn your garden rubbish into mulching material
Repurpose your old tyres into garden decoration pieces
Upcycle your broken washing machine into a cosy fire pit
Craft a DIY wind chime or two
Use your unwanted items to make stepping stones
These fantastic tricks will enable you to both save money and turn your home garden into a landscaping masterpiece.
Use garden waste for mulching
What do you do with all the dry leaves and grass clippings? You use them as mulching materials, of course! They will preserve the moisture in the soil and greatly boost its fertility. If you do not have a lot of vegetation in your garden, you can make your own compost pile from food waste and leftovers. This is a very eco-friendly and sustainable solution which is not hard to try out.
Upcycle your tyres
If you have a few old tyres in your garage, do not be quick to opt for hassle-free waste clearance in Kennington SE11 or some other part of the English capital. You can repurpose them into flower containers or to even turn them into patio ottomans or a small table. Browse the web for some DIY tyre upcycling ideas and you will be surprised of all the options you have.
Turn a broken washing machine into a fire pit
You have always wanted to have a cosy fire pit in your home garden but you don't have one because it is too expensive. Worry not because you can craft this backyard feature from the drum of a broken washing machine. It is safe, easy and quick to do. Try it out!
Make your own wind chime
Why spend money on fancy wind chimes when you can make them using your old forks, spoons and jars. Just decorate or paint them in fun colours to give them a more presentable appearance and they will be good to go.
Be creative with your stepping stones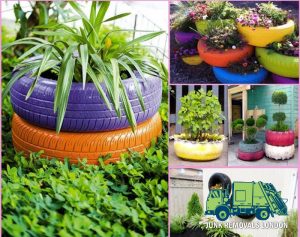 One really amazing landscaping solution for every home garden are a path of stepping stones. This is a feature which can serve more than a decorative purpose. You can use them as a way of dividing the flowers and plants in your backyard or by simply crafting a nice walkway to help you avoid getting your shoes muddy and dirty every time you step out of the house. The best thing about stepping stone walkways is that you can use various materials to make them, including old bricks and tyres or even tree stumps.
Do not be afraid to get creative with your rubbish. Give it is second life by using it for your next garden landscaping project.