Change of seasons indicates a change in people's habits and lifestyles to some extent and some major preparations. With the winter knocking on our doors, we need to come up with solutions that will make our lives better and do everything we can to reduce and handle our waste responsibly, lower our energy bills, etc. To create a comfortable and nice place to stay for ourselves and our family, we need to take precautions steps. This way, we will be able to handle any unexpected situation and ensure that our home is clean and safe at all times. If you are looking for tips on how to prepare for the cold season and handle your waste properly, here are few tips you might find useful.
Clean your gutters on time
Cleaning your gutters perhaps isn't the most fun chore to do around the house but they need to function properly to do what they were designed for. Experts recommend cleaning your gutters when the last leaves have fallen, before the winter hits, to ensure an ideal condition of your drainage system. Apart from cleaning, this is a perfect time to conduct any repair which may be needed. Clogged gutters may lead to disastrous consequences if gutter maintenance isn't conducted timely. And don't worry about the leaves and other waste from your gutters; the best junk removals in South Tottenham N15, N17 will take care of disposing of it properly.
Get special winter bins on time
Waste collection during cold temperatures and snow requires additional effort to ensure everything goes smoothly during the collection. First, you should get special bins for use during winter. Contact your local waste collection service and ask around. You can also call a respectful house clearance company in London to get more information and advice on the following:
Where to place your bins to ensure your safety and safety of waste collectors
What to do if you have large snowbanks
Should you put your bins on the street
Dispose of all your waste during fall
Perhaps you haven't even noticed, but you have piled stuff during summer due to numerous summer activities, things that you will no longer need and should get rid of. Fall is a perfect time to declutter your home and get rid of all unwanted items. Hiring reliable junk removal services in Forest Gate E7 can help you handle the problem. Sort out the junk from your attic, garage, basement and, of course, other spaces you use (kitchen, living room, bedroom, etc.). You will have a spacious and decluttered household, ready for the cold season.
Reduce energy costs during winter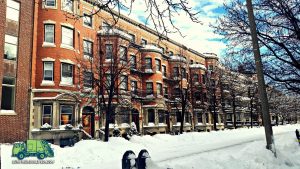 Cutting down your energy bill is one of your top priorities during cold winter months. If you want to reduce the bills and ensure a warm home in advance, make sure you deal with leaks that allow warm air to escape outside. Maintaining a steady temperature is very hard, which forces heaters to work more than they should under normal conditions. Check your home for cracks around the doors and windows and seal up the house. You can use caulks because they are great for sealing cracks.