If you have ever tried to declutter your home, you have probably come to realise that sentimental clutter is incredibly hard to let go of. Objects that have an emotional value can make you feel as it is your duty to keep them and just the thought of throwing them in the bin can make you feel very guilty. However, there are a few important reasons why you should not hold on to all of your sentimental possessions. Learning to let go of them can help you:
Move on with your life
Make your home look neater
Help you make some extra room in the house
Become more practical
And yet, throwing away items to which you are emotionally attached is never easy. That is why you should ask someone to help you out with that process. Also, there are a number of rules which you should follow in order to reduce the sentimental clutter in your property.
It's just an object
If the only reason you are keeping an item is because you are associating it with a certain memory or a person, you should probably toss it. Just the fact that you are not using or liking something you own, means that you simply do not need it anymore. Also, don't forget that even without the item in question, the memory you are trying to hold on to will continue to live on in you.
Get over your guilt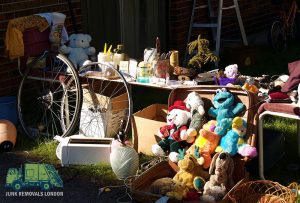 You really loved your late grandfather but you think that the painting he left you is very ugly. Well then, why don't you get rid of it! There is no room for guilt in that case. After all, we all have our different likes and dislikes and you are not obliged to share the interests and beauty criteria of someone who is or was close to you. The same is valid for presents you don't quite like but you keep because you think that the person who gave them to you will expect to see them in your home. If you don't like them, don't keep them – it's simple as that. Plus, if you leave the impression that you enjoy a gift that you actually hate, you will continue to get similar presents in the future.
You don't have to throw them out
If some of your items with emotional value are in a good condition, you don't really have to toss them in the bin. You can donate them or give them to a friend or a relative who would like to have them. That will make the letting go process much easier for you and it will allow you to find a new, better home for your sentimental clutter. If, however, the items are broken or too old, hire a team of vetted rubbish collectors. Keep in mind, that some categories of waste should always be cleared out with professional assistance.
Go digital
We are living in the 21st century. Take advantage of that and make digital copies of the sentimental clutter which you are finding most difficult to get rid of. In other words, take photos of them. Even if you print them out, they will still take less space compared to the actual object.