Fly-tipping is a very serious problem, particularly in large cities. Dumping waste illegally on the streets is something that can be seen in many heavily-populated neighbourhoods in the country. But why do people do it when most local councils provide excellent waste collection and recycling solutions? Well, because these solutions come with certain limitations. There are strict monthly allowances related to the amount of waste that your council can handle. So, if you decide to declutter your garage or to clear up your house, you may need to either hire a skip or to rely on an efficient house clearance service in London. Not everyone is willing to spend money on such things and that is why the fly-tipping practice exists. But the random dumping of rubbish has terrible consequences because it:
Is dangerous for your health and the environment
Can attract foxes and rats
Spoils the appearance of your neighbourhood
Will cost you money in one way or another
So, if you need to get rid of a large amount of rubbish, hire a licensed rubbish removal company and opt for a professional house clearance in London.
A health and eco-threat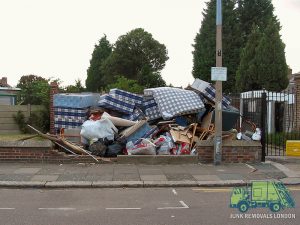 Some categories of waste like air-conditioning units, fridges and other domestic appliances contain dangerous chemicals and substances. When they are not adequately disposed of, they can easily become a major threat to humans, animals and plants. That is also true for London's greenest areas since namely they are more attractive to wild birds and animals. Therefore, relying on insured waste removal services in Harringay, for instance, is quite vital because one-fifth of the district consists of green open spaces which have become home to many animals. And what if you dump your rubbish near a kids' playground? Some young child can easily get injured when playing near a large pile of bulky furniture pieces, for example.
Pest magnet
Rats and foxes view dumped rubbish as a gold mine for interesting finds or even worse – as a breeding ground. If there is a fly-tipping site near your home, you will eventually have to deal with a pest infestation emergency. That is why comprehensive rubbish removal services in Kingston Vale are so popular. There are many renovated houses in the area and a rat or a fox infestation is the last thing you would want if you are living in such a property.
Reputation spoiler
Fly-tipping has the power to make even the most prestigious and well-maintained neighbourhood look shabby, poor, dirty and even dangerous. If you are living in a district that has trouble with rubbish dumping, the price of your home may witness a decline as not many buyers are interested in spending money on a property that is set in an area with a dubious reputation. The availability of reasonably priced waste collection in Bexleyheath is important for the town's inhabitants as it helps them keep the place clean and organised.
A price we all pay
Finally, if you are fly-tipper, you should know that you pay for your actions in one way or another. Local councils all over the country now spend £57.7 million of taxpayer money in an effort to cope with the growing waste dumping problem.