If you are struggling to find the motivation and the strength to declutter your home, you should either hire a team of experienced rubbish collectors or find a way to change your mindset and your strategy. Here's a thought – why don't you try some key Feng Shui decluttering tactics? They can help you clear all the junk out of your house in a stress-free way.
What is Feng Shui?
Feng Shui is described as many things among which are an ancient Chinese philosophy, an art or even a science. In the most basic terms, however, Feng Shui is all about energy and about how you can attract positive energy to your life and to your home and keep negative vibes at bay. One of the most popular applications of Feng Shui is in interior design. Needless to say, this philosophy does not look approvingly on clutter since the latter:
Can steal your energy;
Block the energy flow in your home;
Make everyone in the house feel stressed and absent-minded;
To declutter your home the Feng Shui way, follow the next pointers.
Set the right energy and tone
Do not declutter when you are in a bad mood because that will establish a really bad vibe in your house. Still, that is often easier said than done since this activity is anything but fun or easy. Therefore, put on some music and some comfortable clothes. That will help you feel more relaxed and it will lift your spirits at the same time. Also, open the windows of the room to let the energy circulate freely.
Small steps and small rewards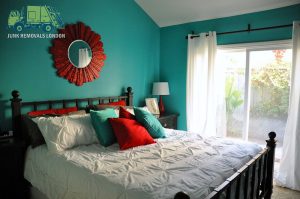 In Feng Shui, every room stands for something. So, make sure you start with these three rooms: the bedroom, the kitchen and the entrance hall. According to this ancient philosophy, the bedroom stands for a person's inner self, while the kitchen is a representation of his or her health. In other words, by getting rid of the junk in these rooms, you should start feeling better both physically and spiritually.  The entrance hall or the front door area is believed to be the most important one in every house because this is the core of the home's energy. Still, if you are in a hurry to get things done, rely on comprehensive rubbish removal services in East Barnet EN4.
The great thing about the Feng Shui style of decluttering is that you won't need to do everything at once. Dedicate only 15-30 minutes of your day to this process and always reward yourself with a small treat like a glass of wine after every session. That will keep you in a happy mood and establish a positive energy in the house.
Don't keep items that bring out bad memories
Get rid of all items that make you sad, angry or bring out some bad memory. This will improve the energy in your home and it will clear out ever more space in it. When an object reminds you of something unpleasant, this unpleasant feeling will become part of the room in which you keep the object.
Even if you don't believe in Feng Shui and other such philosophies, sticking to these tips will surely make any house decluttering process more fun and easy.