Plastic is a popular packaging material today because it is easy and really cheap to produce. However, the damages that it causes to the environment are horrific because:
10% of the world's plastic waste goes straight in the ocean;
Some of the components of this material are not health-friendly;
Half of all the plastic items in the world are used only once;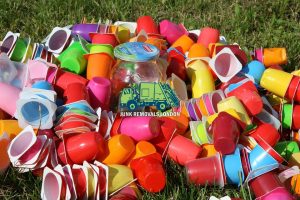 Given that plastic takes between 500 and 1,000 years to decompose, it is wisest if we all try to reduce the plastic waste we produce. That is not hard to do and to do it you will not need to call in a group of professional rubbish collectors to provide you with a comprehensive junk removal in Catford SE6 or in whichever London area you live. You can do it all alone!
BYO
The bring-your-own strategy is one of the most effective ways to limit the plastic waste you produce. To do that, simply carry your own shopping bag the next time you go to get some groceries. If you want to grab a coffee, ask for it to be poured into your travel mug or your reusable bottle.
Don't use straws
If you are only buying straws to make your homemade cocktails look prettier, you should consider the negative consequences that they have on the environment and buy them no more. If you can't live without straws just get reusable ones.
Don't buy bottled drinks
The same goes for bottled water, juice, milk and etc. We don't mean that you should stop hydrating yourself. There are plenty of drinks that come in cardboard boxes these days. It's true that they are often sold at higher price but if that is the price you need to pay to protect nature and the health of the future generations – it is totally worth it and so is the use of professional junk removal services in Honor Oak SE23 or in any other London district because it ensures that your waste (plastic and non-plastic) will be handled properly.
Find plastic-free food storage alternatives
Plastic packaging options such as plastic containers, Ziploc bags and plastic wrap are commonly used for the storage of food. Most home fridges are filled with them. That is why so much of the plastic waste today comes from the kitchen. But what can you do – toss your leftovers in the bin? Of course, not! Stock up with glass containers and jars. They are more expensive compared to plastic containers but, in the long-run, they make a smart investment and they will do a better job at preserving the taste of the food you keep in them.
And before we wrap things up, we have one last tip for you. In most homes, the garage is the place which is used for the storage of various plastic items. Contact a renowned garage clearance company in London to help you out with the removal of these things. Some of these businesses can also provide you with a recycling solution which means that you can kill two birds with one stone.